Chevrolet fits 14 cars with Android Auto and CarPlay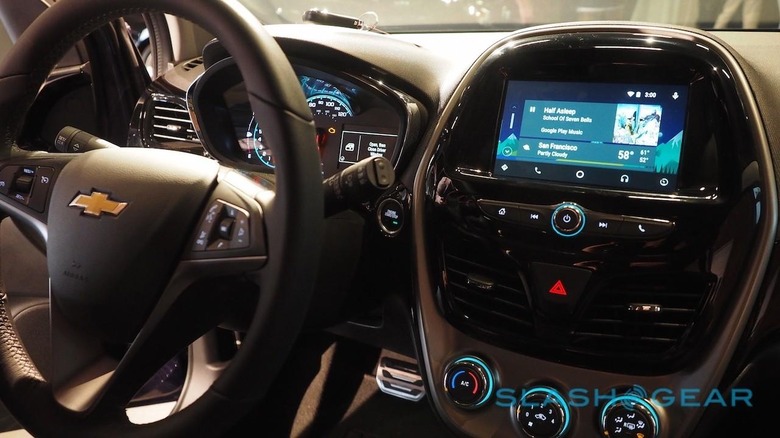 Chevrolet has announced the most ambitious Android Auto and Apple CarPlay roll-out so far, with a full fourteen of the GM brand's 2016 line-up supporting the infotainment systems. "There are a lot of smartphones out there today," Dan Kinney, director of user experience at Chevrolet pointed out, "and not all of them are being used responsibly." Unlike rival manufacturers, Chevy will be making the advanced smartphone connectivity a standard-fit item, not charging more for it.
There'll be two systems Chevrolet will use, each branded MyLink Infotainment, one with a 7-inch touchscreen and another with an 8-inch touchscreen. The former will be near-entirely reliant on CarPlay or Android Auto: while it will have its own basic features, like an FM radio, there won't be a navigation upgrade option or native speech control (though there will be a voice command button on the steering wheel).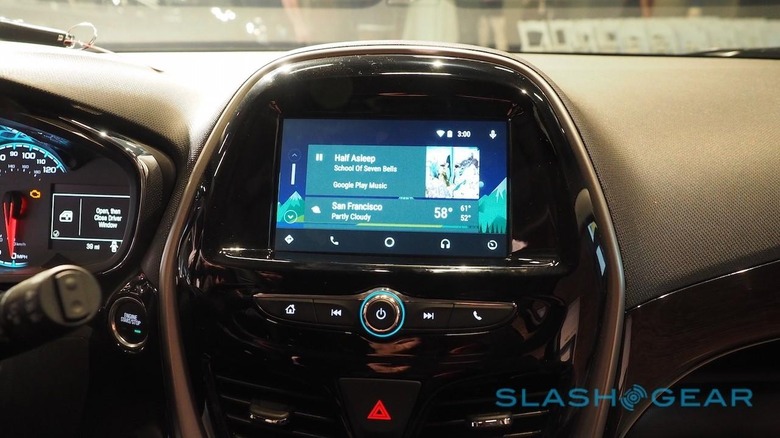 Instead – in a move Chevy predicts will be particularly popular with smartphone-obsessed Millennials – those features will be dependent on hooking up your iPhone or Android handset.
As for the 8-inch system, that will be more self-sufficient should the driver demand it. It'll be offered with a factory-fit navigation option, for instance, and other standalone features for those without a compatible phone or uninterested in hooking up their device. The 8-inch system will also have to wait a little longer for Android Auto, which is due later in the year.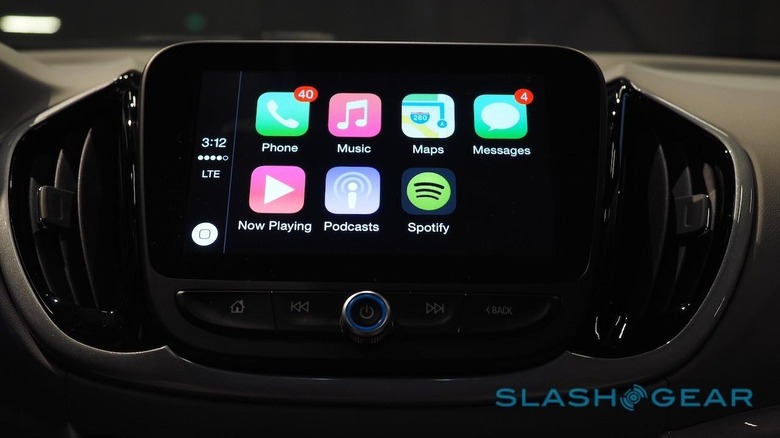 Seven cars will be offered with the 7-inch MyLink Infotainment system, the 2016 model year Spark, Cruze, Malibu, Camaro, Camaro Convertible, Silverado, and Silverado HD. Meanwhile, thirteen cars will be offered with the 8-inch system, the Cruze, Malibu, Impala, Volt, Camaro, Camaro Convertible, Corvette, Corvette Convertible, Colorado, Silverado, Silverado HD, Tahoe, and Suburban.
Together, the company says, the fourteen cars accounted for more than half of Chevrolet's total sales worldwide in 2014, over 2.4m vehicles.
It's not the first time Chevrolet has done a practically range-wide roll-out. The 2011 model year cars nearly all got RemoteLink simultaneously; last year, OnStar 4G LTE was added as a standard-fit item to sixteen cars.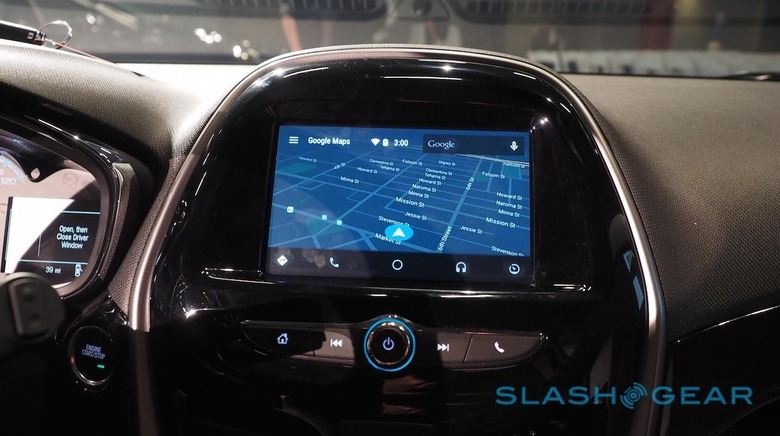 Unlike Hyundai, meanwhile, which announced its 2015 Sonata would be the first production vehicle to offer Android Auto, Chevrolet isn't insisting on a head-unit upgrade before Android Auto or Apple CarPlay will work. While the Sonata demands the Navigation upgrade, Chevy will be baking it into even the cheapest 2016 Spark and its best-selling Cruze, the 2016 model of which hits dealerships on June 24.
It's an aggressive roll-out, and it begs the question of whether Chevrolet is perhaps too willing to give up prime dashboard real estate to Google and Apple. Chevy's own infotainment system isn't going to go away however, Kinney told me, and if anything it's going to get better. Ignoring the rise of alternative systems isn't a possibility, after all. "People can already do that, they can already swap out [their head-unit], use the phone alone," the exec pointed out.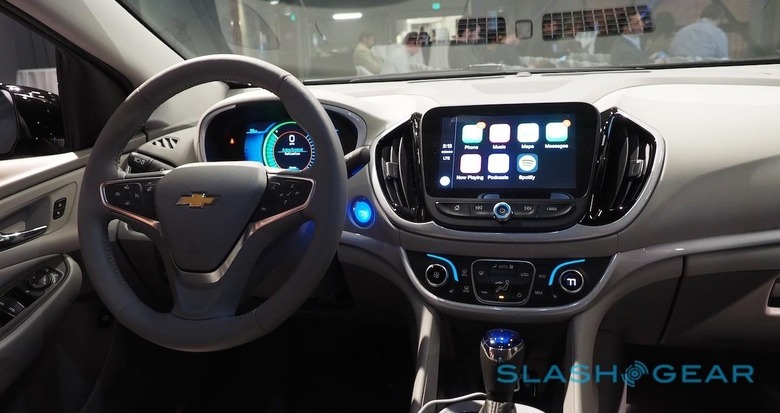 "This is going to push us to get better, we're going to spend a lot more time designing that," Kinney explained. "It's going to set the bar for usability and interface."
One advantage – for the moment, at least – is that neither CarPlay nor Android have underlying connectivity with the car's own systems. "It's pretty shallow right now," Kinney pointed out, "[though] over time we'll see further integration."
In the meantime, Chevrolet will be building on its strengths, particularly a direct route into the car's own hardware. "The question we ask ourselves is whether you could do this on a bus," the UI chief told me, referring to things like streaming music or checking a route home, "or whether it depends on the data you get from the car."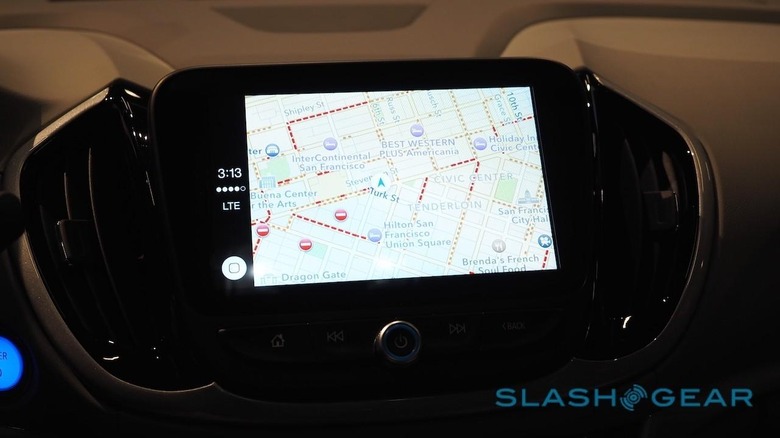 That could be engine speed and distance traveled augmenting positioning awareness when a GPS lock can't be achieved, or being able to hook into the electrical systems for lights, windows, and more. "[Google and Apple are] not going to be bringing out a steering wheel," Kinney joked.
Chevy will also be a cautious gatekeeper. "It's our job to be a safeguard, to make sure we're not giving Google everything on about the driver's data," Kinney suggested.
Google is expected to further detail its plans for Android Auto at Google I/O this week, its annual developer conference.