Chevrolet's new 2016 Volt wasn't the only EV the company had to show at the opening of the Detroit Auto Show today, with a new Bolt EV Concept previewing a more affordable version of the car. Dubbed the EV for not just California, but the remaining 49 states in the US – as well as "select locations" further afield – the Chevrolet Bolt EV Concept previews a roughly $30,000 car with the same battery pack and range-extending drivetrain technology as featured in the 2016 Volt.
Precise details on the new concept were scant, with GM's Mary Barra only speaking about the car's technologies in broad strokes. Even then, there's enough to be intriguing.
According to Barra, the Bolt EV will be capable of 200 miles of driving, an ambitious figure for a small car.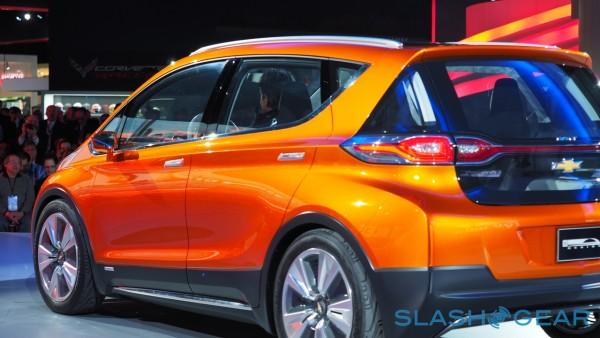 To achieve that, GM turned to a variety of more lightweight materials, including aluminum, magnesium, and carbon fiber, to help keep curbweight down.
The result is a smaller car than the Volt, and one that – key if Chevy's EV ambitions are to continue apace – will be more easily reached by new drivers. It's worth noting that Chevrolet's pricing aims come after state and federal tax credits have been applied.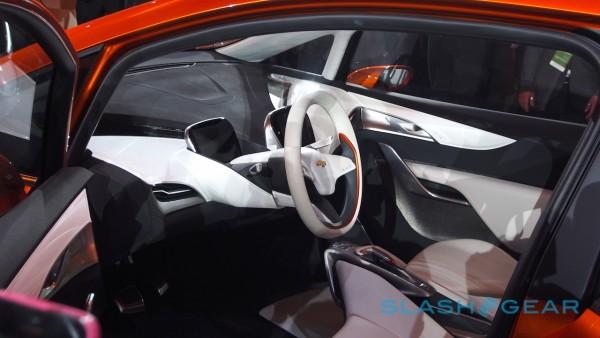 Inside, it's the usual mixture of unlikely-to-ever-reach-production high tech instrumentation, with a duo of LCDs for gages and infotainment, and touch-sensitive buttons front and back.
Exactly when a production car based on the Bolt concept might make it to forecourts remains to be seen. Chevrolet promised a total of five new passenger cars for its range in 2015 alone.
UPDATE: An earlier version of this story reported the $30,000 price target was pre-tax incentives, whereas Chevrolet had already taken those into account. We apologize for any confusion caused.