Chase and Uber Payment Rewards join Android Pay roster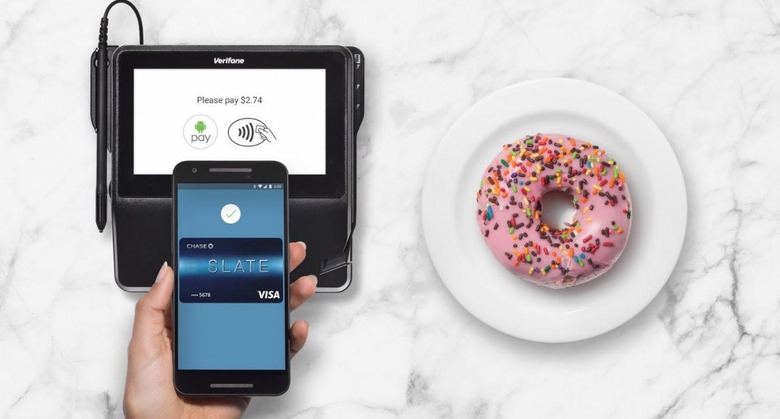 Google has announced new Android Pay support for a multitude of banks and services, adding one of the largest in the US to its roster today. Android Pay now supports credit and debit cards from Chase, with Google pointing out that Chase customers can still enjoy the benefits they get with those cards while using them with Android Pay.
The US isn't the only country getting some love today, as Android Pay will soon support cards from Santander and TSB in the UK. However, if you're a customer of one of these and you find you can't add your card to Android Pay, don't stress too much – Google says that support for these cards will be rolling out over the course of the next few weeks, so some customers may not be able to make the jump to Android Pay right away.
Google is also expanding support for Rewards programs within Android Pay. What started with Walgreen's Balance Rewards program back in August will soon include loyalty programs from Dunkin Donuts and Chili's, with Google saying that support for those two companies will be live in the coming months.
More immediately, Uber passengers can now use Uber Payment Rewards through Android Pay. There's a pretty good reason to do too, as Google and Uber are offering riders 50% off ten rides for using Android Pay. Google promises that qualifying for the half off promotion is as easy as using Android Pay to pay for your rides, though there is one stipulation in that the promotion only runs through October 15.
Finally, Android Pay will soon be getting additional support for mobile checkouts through Chrome. Google says that it has partnered with 1-800-Flowers.com and Groupon, and support for those will be coming up soon, with "many more" to come later on. All in all, it's not a bad day to be an Android Pay user, especially if you use Uber and want to save some cash on your rides. These announcements seem to be coming in at a pretty decent pace these days, so stay tuned for more.