CES 2009: Velocity Micro NoteMagix M10 netbook & M5 MID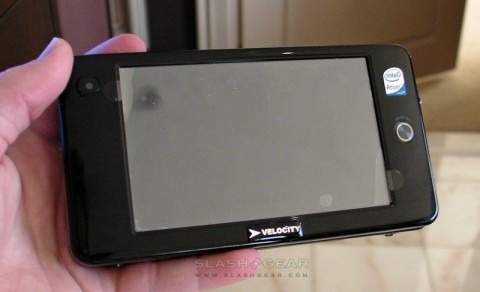 As well as their latest Fuzebox HTPC, Velocity Micro also brought along two mobile products to CES this week.  The company has added a MID, the Velocity Micro NoteMagix M5, and a netbook, the Velocity Micro NoteMagix M10, to their range.  The former, a rebadged aigo P8860, has a 4.8-inch 800 x 480 touchscreen, integrated WiFi, Bluetooth and 3G, and a 4GB SSD, and will be offered in both Windows XP Home and Linux versions.
The NoteMagix M10, meanwhile, is another OEM rebadge and as such has the typical Intel Atom N270 1.6GHz processor, 1GB of RAM, a 160GB SATA hard-drive and WiFi.  General specs don't differ too much from the norm – three USB 2.0 ports, VGA output, 10.2-inch 1024 x 600 display and 3-cell LiIon battery – so Velocity are looking to differentiate with slick accessories and customization.  Each M10 will be shipped with a smart neoprene carry-case and a mouse (either wired or wireless; they're currently undecided).  Eventually they plan to offer as many color options as Apple does in their iPod nano range.
Pricing is not entirely confirmed, but the M10 is expected to be priced at around $399.  We're waiting for confirmation on the M5 MID, but given the Gigabyte M528 – also based on the aigo reference design – is expected to retail at around $685, don't expect it to be all that cheap.
Update: According to Velocity Micro, the M5 MID pricing has not been finalized but is expected to be under $500.