CES 2009: Velocity Micro Fuzebox HTPC Video Demo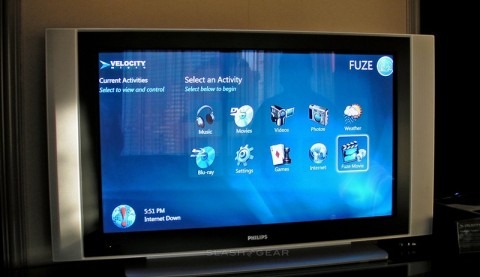 Velocity Micro are probably best known for their gaming PCs, but they also have a range of home theater PCs; that's one of the things SlashGear stopped by to take a look at this week at CES.  The Fuzebox is a high-definition, Blu-ray enabled HTPC intended for those wanting a low-maintenance way to rip and watch DVDs, stream music to multiple rooms, watch streaming content and more; to do that, they've locked the Windows-based box down.
Check out the video demo of the Fuzebox after the cut 
The Fuzebox uses a custom home theater GUI on top of a Windows Vista box.  Minimize the GUI, however, and unlike Windows Media Center there's nothing but a blank display.  There's no way to install extra software, meaning minimal opportunities for clashes or crashes.  As standard, the Fuzebox we saw demonstrated had no Cablecard tuner installed, being a low-profile box, but plug in an external USB tuner and it will automatically be recognized and new Live TV/Record TV options displayed.
What you do get is the ability to stream audio to up to nine different zones – with Velocity Micro suggesting a wireless audio adapter on their site – with a very straightforward way to organize each stream.  DVDs – whether ripped or physical media – or Blu-ray discs  have their full menus, and there's also a streamlined, large-font web browser, internet radio system and Netflix movie streaming with the ability to add titles to the queue direct from the Fuzebox GUI.
Bundled with the Fuzebox is a standalone app for a networked PC, which can be used to rip DVDs, automatically download cover-art and disc details, then automatically transfer them to the HTPC's onboard storage.  Alternatively the Fuzebox can access content on other PCs or NAS drives, listing it among local content.  It's available now, with the Fuzebox range beginning from around $1,599.