CES 2009: Qualcomm Snapdragon Android prototype Video Demo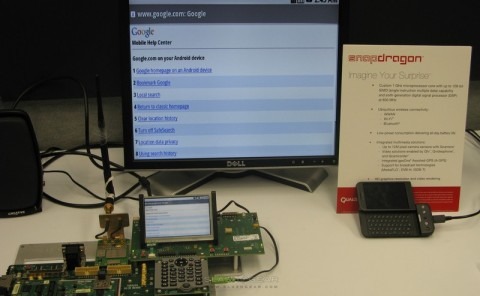 Qualcomm today demonstrated a Snapdragon-based reference prototype running Google's Android OS.  The setup includes a large WVGA display, together with Snapdragon's always-on wireless connectivity, and is intended to demonstrate the open-source platform's suitability for larger-scale devices than the current smartphones it's usually seen running on.
Snapdragon uses a 1.5GHz dual-core CPU with integrated HSPA+, has 1080p high-definition support, WiFi, mobile TV and GPS capabilities.  Although based on the ARM platform, Qualcomm have modified the processors to run at three-times their usual speed; nonetheless, it's incredibly power frugal, with the company suggesting that Snapdragon-based devices will be able to stay permanently connected to a data network.
That, says Qualcomm, makes Snapdragon ideal for Android, given its heavily internet-biased functionality.  The company has previously demonstrated a convertible touchscreen netbook based on the chipset, and separately have confirmed that Snapdragon devices would launch sometime in 2009.  Google themselves have always been upfront about their intention for the platform, and that they envisage it as more than just a smartphone OS; for more on the Google platform, visit our sibling site Android Community.
Press Release:
Qualcomm to demonstrate Android operating system on Snapdragon platform at CES 2009

Company Unveils Innovative OS Leveraging Unprecedented Computing and Connectivity of Snapdragon for Mobile Computing

Qualcomm Incorporated (Nasdaq: QCOM), a leading developer and innovator of advanced wireless technologies and data solutions, today announced that a demonstration of Google's Android mobile operating system running on Snapdragon™ mobile computing chipsets will be available for the first time at the International Consumer Electronics Show in Las Vegas, January 8-11, 2009. The demonstration runs at WVGA resolution which can support larger displays for mobile computing devices. The technology demonstration underscores the tight integration between the innovative Android platform and the unsurpassed combination of computing performance, low power consumption and ubiquitous connectivity capabilities offered by Snapdragon chipsets.

"Qualcomm's vision for the Snapdragon platform to redefine how people access information is well-aligned with the Android platform's capabilities," said Mark Frankel, vice president of product management for Qualcomm CDMA Technologies. "We are excited to be showcasing Android running on Snapdragon chipsets which highlights some of the advanced functionality that will distinguish this next generation of mobile computing devices."

Qualcomm Incorporated (Nasdaq: QCOM) is a leader in developing and delivering innovative digital wireless communications products and services based on CDMA and other advanced technologies. Headquartered in San Diego, Calif., Qualcomm is included in the S&P 100 Index, the S&P 500 Index and is a 2008 FORTUNE 500 company. For more information, please visit www.qualcomm.com