CES 2009: iRiver WAVE HOME multimedia device hands-on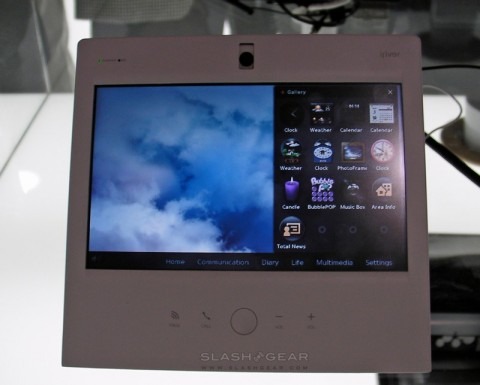 iRiver can always be relied on to bring something interesting to CES, and this year is no exception.  The WAVE HOME is this year's multimedia maven, combining local video and music playback, internet access and VoIP voice and messaging into a compact, minimalist desktop unit.  SlashGear stopped by the iRiver booth to spend some hands-on time with the WAVE, and while it might do its darnedest to defy categorisation, that didn't stop us wanting to bring it home.
An inverted V in either matte black or white, the WAVE HOME is presided over with a 7-inch WVGA 800 x 480 resistive touchscreen.  Bright and only marred by occasional minor lack of responsiveness, the display is used to navigate through a simple menu-bar and icon GUI interface with minimal obvious hardware controls.  In a charging niche on the back of the base station is a wireless handset, complete with color display, number pad and shortcut controls.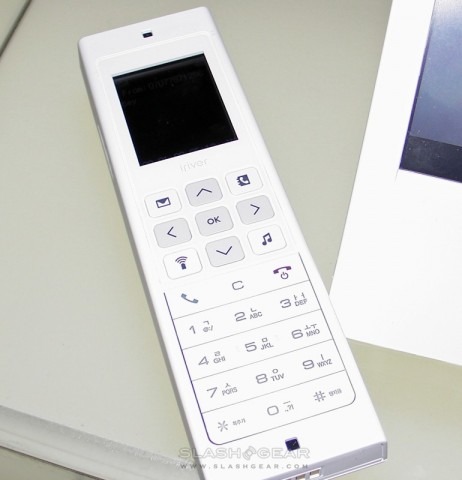 The WAVE HOME connects via 10/100 ethernet (sadly there's no WiFi) and requires a wired power source rather than using batteries.  Under a panel on the right side there's a USB Host port, SD card slot and headphone socket; on the back there's an FM antenna port, dual ethernet ports, a line-out audio socket and power port.  The 1.3-megapixel webcam can tilt up and down, with a hardware wheel to control that on the top right; slotting into the bezel is a small stylus, in case you prefer not to use your finger with the touchscreen.
Among the device's talents are video and voice calling, sending SMS and MMS messages (including handwritten notes and video messages) and an onboard address book, notepad and calendar.  On the entertainment side there's a music and video media player, with touchscreen controls, photo viewer with digital photo frame mode, and internet and FM radios.  You can also access the internet, load new games and widgets onto the WAVE HOME, and iRiver have added an online payment system which will eventually be able to read your swiped credit card to pay for online purchases.
In use, menus are smooth and quick, and despite the relatively small size the speakers perform well both as a music player and as a speakerphone.  Of course, with the latter there's always the option to pick up the handset instead.  Our video demo is here.  According to iRiver, it should go on sale sometime in 2009 priced at around $400.