Cerevo LiveShell livestreams Contour+ wearable camera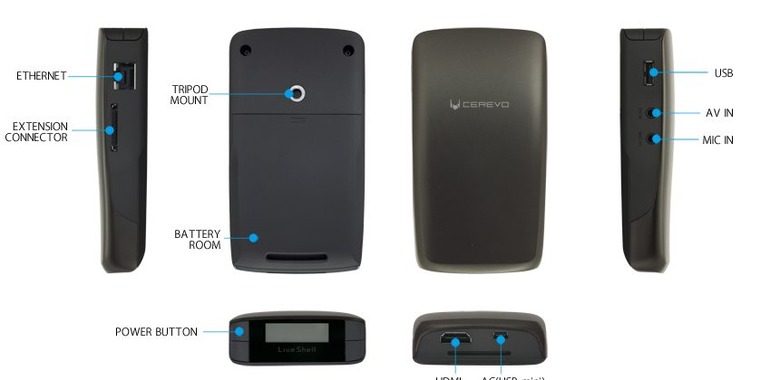 Wearable camera company Contour and live-streaming firm Cerevo have partnered  to create the Cerevo LiveShell, a real-time video broadcasting adapter for the Contour+ camera. Hooking up via HDMI, the LiveShell can stream up to 480p video – the Contour+ can actually capture up to 1080p on its own – with remote control via a smartphone, tablet or PC. In fact, with a standard HDMI input, you can hook up many different camera types.
Footage is uploaded directly to Ustream for real-time viewing as well as subsequent review. Alternatively, there's support for using the Contour+/LiveShell combination to broadcast live on other video platforms, though you'll need to configure such a setup yourself.
Battery life from both Contour+ and LiveShell are rated at 2-3hrs, and you can power the LiveShell with a pair of AA batteries so it's easy to get up and running again. Ports include ethernet, USB, HDMI, A/V and microphone inputs, and an extension connector; there's also a tripod mount screw. Inside there's a WiFi b/g/n radio.
If you've wanted to get your extreme sports footage online just as soon as you're actually hurtling down a ski-slope or racetrack, the LiveShell might be the very best way to do it. The Cerevo LiveShell will go on sale February 1, priced at $299.
Meanwhile, Contour has also outed a new Contour Connect App for Android devices, due in April, which will allow Contour+ and ContourGPS cameras to be remotely controlled via Bluetooth. Live-streaming previews will be supported, to help frame the shot, and there'll be battery, memory and GPS signal status updates too.