Catching up on Apple FBI case: an 8-point timeline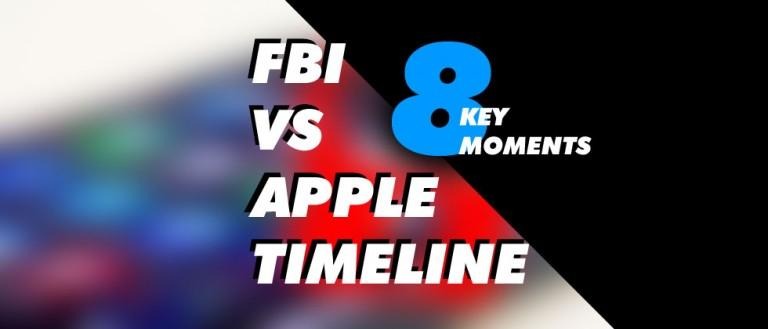 Today we're rounding up all the details regarding Apple's legal battle with the FBI over iPhone encryption. This includes the one-sentence filing made by attorneys representing Apple this week notifying the U.S. District Court for the Central District of California that their clients "formally object" to an order to break in to an encrypted iPhone. Today we make it simple. Today we catch you up at the same time as we collect the data in one place for ourselves, as well.
First, to get a few items separated out, as there are some similar-but-separate cases going on at the moment that've been confused with Apple's most major case with the FBI.
The most recent ruling in New York is one against the DEA, finding that Apple is not legally required to be compelled to open an encrypted iPhone. The will not be compelled as such an order would go above and beyond what's allowed in the All Writs Act. This case also presents an opportunity to readdress the AWA to reinterpret it for the current age – Judge Ornstein suggested that Congress make some decisions regarding this.
In Europe, things aren't looking so positive for Apple. A court in France has just proposed a 1-million-Euro fine PER iPhone that they are unable or unwilling to unlock as part of court orders.
The FBI vs Apple Timeline
The initial order from San Bernardino came earlier this February. It was at that time that Tim Cook delivered the following statement:
"Up to this point, we have done everything that is both within our power and within the law to help them. But now the U.S. government has asked us for something we simply do not have, and something we consider too dangerous to create. They have asked us to build a backdoor to the iPhone."
Apple's very public response – in addition to their 26-page response to the court – came in the form of a sort of Q&A session with Tim Cook. Their consumer-aimed response here made their case very cut and dry.
Apple's 26-page response to their initial court order further explained their position.
Companies that've come out in support of Apple in this case:
• Google (CEO Sundar Pichai)
• Twitter (CEO Jack Dorsey)
• Facebook (as seen below, via USA Today)
"We condemn terrorism and have total solidarity with victims of terror. Those who seek to praise, promote, or plan terrorist acts have no place on our services. We also appreciate the difficult and essential work of law enforcement to keep people safe," the statement reads. "When we receive lawful requests from these authorities we comply. However, we will continue to fight aggressively against requirements for companies to weaken the security of their systems. These demands would create a chilling precedent and obstruct companies' efforts to secure their products." – Facebook Representative
The FBI has repeatedly suggested that this Apple case will not set a precedent for future iPhone unlocking cases.
We know better.
The New York Police Department have made entirely clear that they intend to seek access to every single iPhone currently subject to a court-ordered search. At the time of his interview with Charlie Rose, Manhattan district attorney, Cyrus R. Vance Jr. suggested that they had 175 cases in which they had iPhones that they'd be seeking Apple's help to break into. Thats in addition to nine other phones subject to similar searches as requested by the FBI, and "thousands" of others — the "thousands" here referenced by DA Vance.
Speaking with David Muir of ABC News, Tim Cook referred to the FBI request to bust in to their own phone as "software cancer." He referred to the new version of iOS they'd have had to have created in order to get in to the iPhone in question, a new version of iOS that could potentially leak to the wide world of hackers in the process.
Apple has also showed signs of defiance – so the rumors suggest – by making the iPhone even harder to break into than it already is.
The biggest event that's taken place in this Apple VS FBI iPhone encryption series of events is the congressional panel hearing which began here at the start of March.
There you'll find the director of the FBI and Apple's top lawyers speaking directly to the United States government regarding this very important case.