Castrade Pico projector, a 3M MPro 1100's clone outs for Japanese market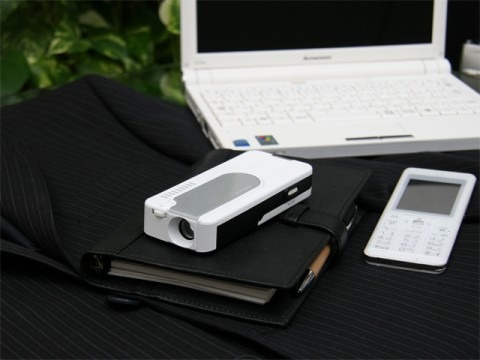 Compare to an established standard-size projectors, the Pico versions still have long journey to playing catch up in the brightness and color reproduction areas. But we've seen its popularity recently increased from a short few months, even DisplayLink is thinking about developing its USB-display chip for the use of Pico projector. This week, another one shown up from Japan, and is equipped with Lcos technology.
Dubbed "CV-MP02" and sold under the company Castrade, but my guess on this pocket projector is nothing but a 3M MPro 1100's clone. They are not distinct from physical appearance to technical detail. That can't be coincidence right?
Presuming only available for Japanese market, the CV-MP02 measures 2×4.5×0.9 inches and weighs 5.6 ounces. It can throw up to 50-inch of picture in VGA resolution at 4:3 aspect ratio. Luminance brightness is rated at 10 nits, and graphic supports D-sub VGA output. In continue use, the built-in battery that can last up to 1 hour of operation, however, there's no sound output to accommodate the audio. The unit is slated to launch in Japan later this month for 35000 Yen (~$400) or you can get the 3M's version for $359 retail.