A Smart Outdoor Watch from Casio has arrived, ready to roll in three colors with rugged exteriors and Android Wear inside. This device goes by the name WSD-F10, and a 1.32-inch dual layer display. Much like the Moto 360 Sport, this device has the ability to shine brightly with TFT LCD display technology when you're using it indoors, as well as work in the sunlight (in a relative low-power mode) with its monochrome LCD.
This device has military standard environmental durability MIL-STD-810 – that means its exceedingly tough. Inside you'll find a pessure (air pressure, altitude) sensor, accelerometer, gyrometer, and compass (magnetic) sensor. Down near the base you'll find a microphone, and connectivity is headed by Bluetooth 4.1 LE and Wi-Fi IEEE 802.11 b/g/n.
While some Android Wear devices have no buttons at all, this Casio watch has three. One is a TOOL button, the other a Power button, the third an app button.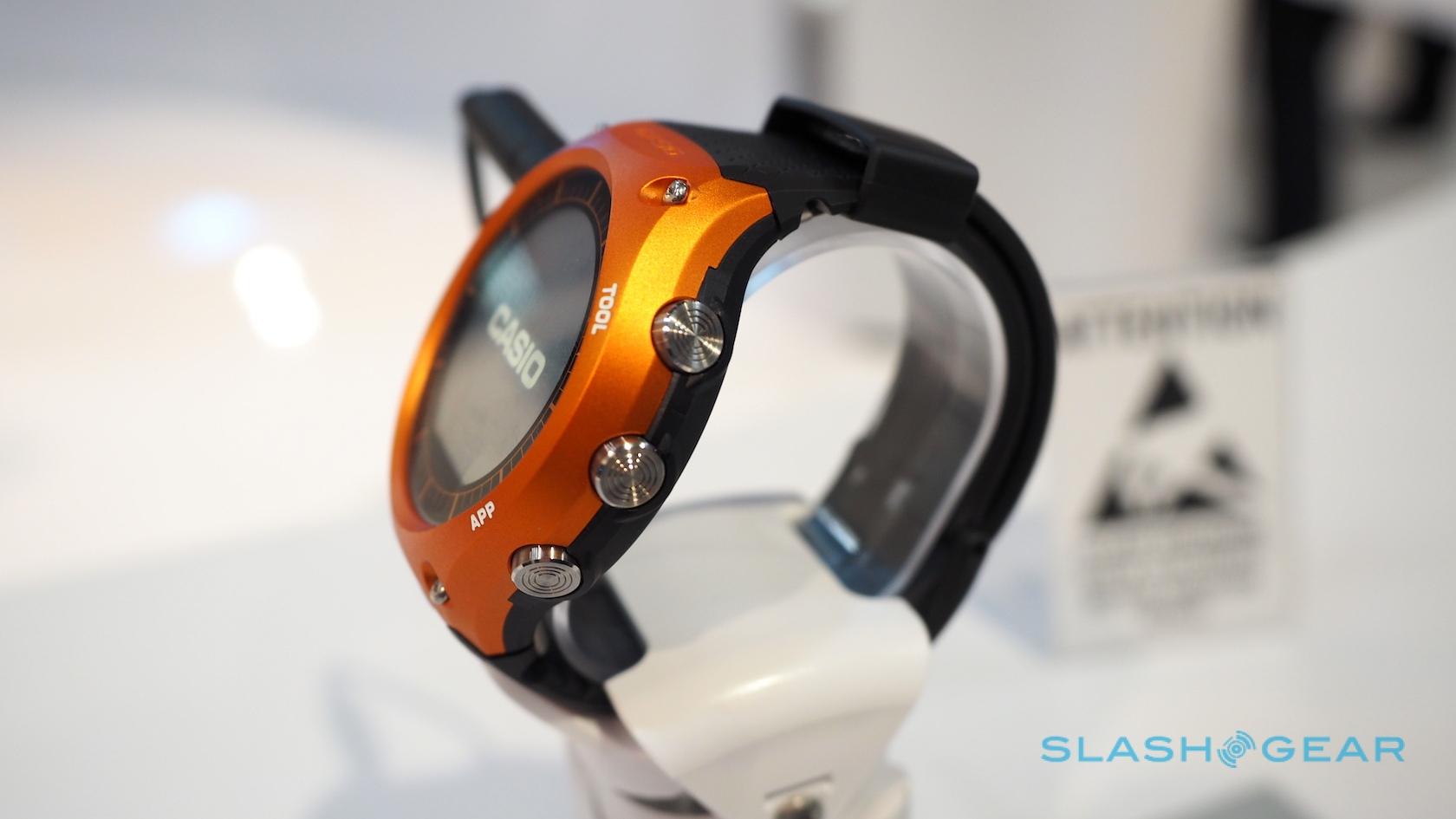 ABOVE: The right side of the watch. BELOW: The left.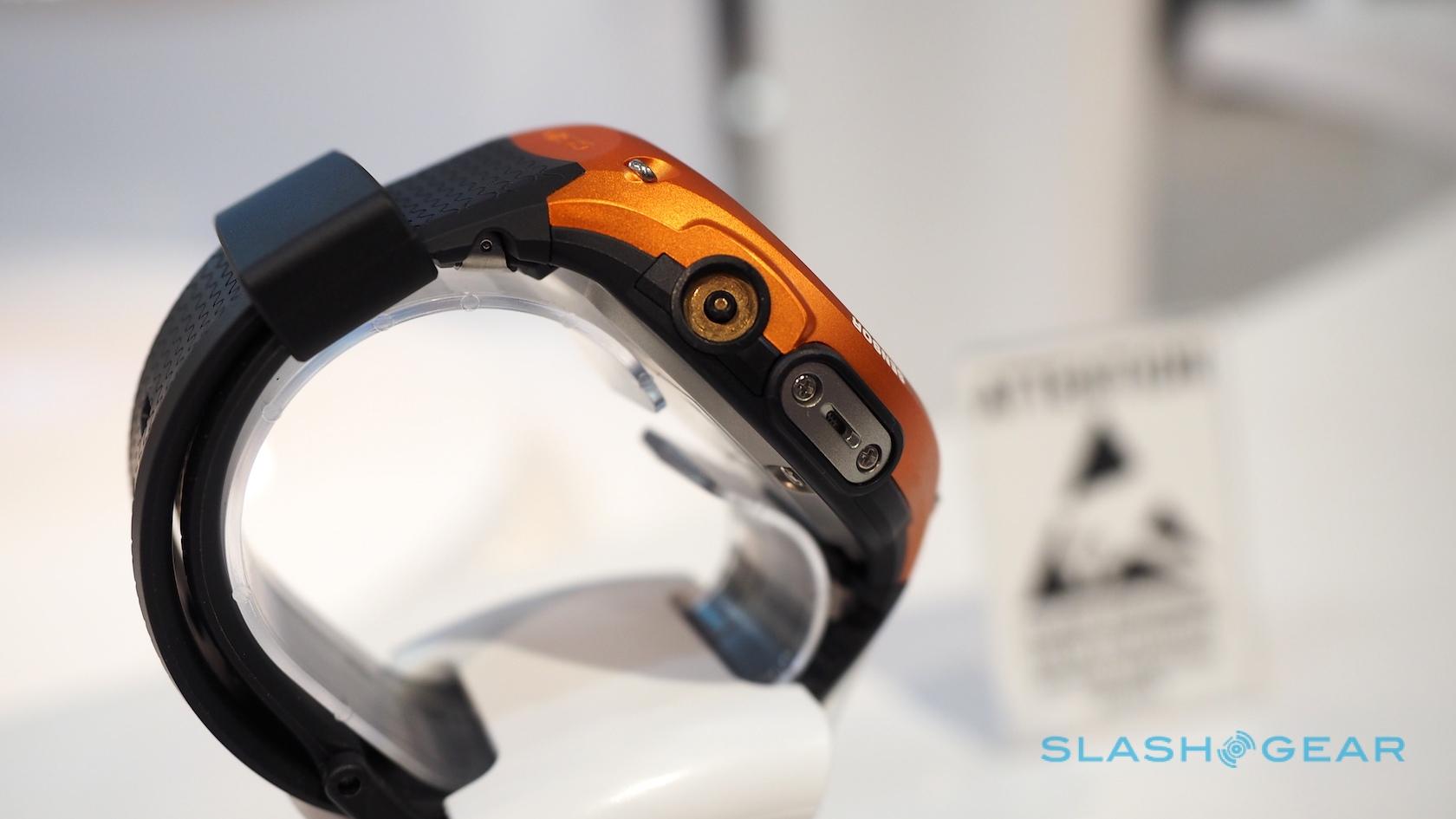 This device is large. It's not meant to be hidden under your sweater sleeve. Much like the G-SHOCK series, this Casio watch was meant to stand out. We'll know more about comfort once we've worn the device for an extended period of time.
For now, we can say it feels similar to a G-SHOCK, even though the design is ever-so-slightly different. We'll see later this year.
• Size of Case: Approx. 61.7mm×56.4mm×15.7mm (H×W×D)
• Weight: Approx. 93g (including watchband)
• Touchscreen: Capacitive touchscreen
• Water Resistance: 50 meters
You'll charge this device with a proprietary charging cord via the watch's "magnetic crimped charging terminal" at its upper left-hand side. The battery inside this device is said by Casio to charge in approximately 2 hours (empty to full), and, if you're using it with smart functions (TFT LCD action that is,) it'll stay charged for roughly a day.
Where this battery situation gets interesting is in its Timepiece Mode – remember that's the monochrome LCD only – with which Casio claims "more than 1 month, roughly". Of course that'll vary based on use, but we can't wait to see how close it gets.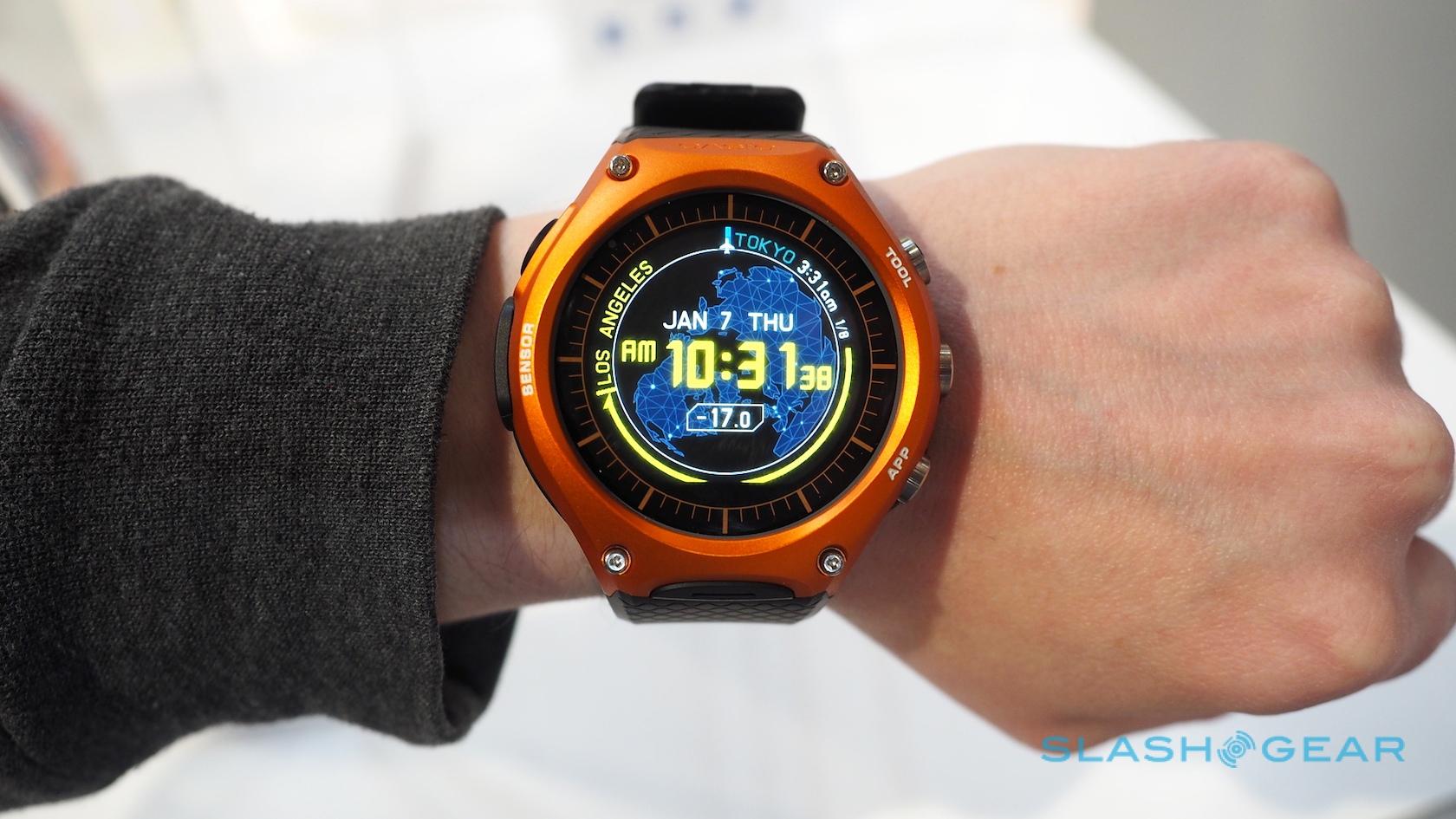 Above you'll see TFT LCD mode, below you'll see Timepiece Mode.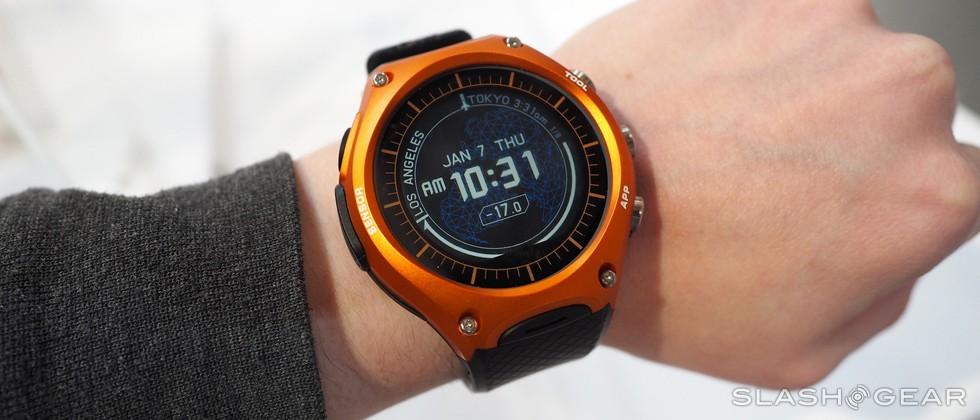 You'll be able to pick this device up in Green, Orange, Black, or Red. This watch will be available starting in April for right around $500 USD.
In the video below you'll see more about the unique apps and software changes Casio has done with this device that, again, runs Android Wear by Google.