Canton Chrono speaker range gets low-profile 501 & 511 floor-stander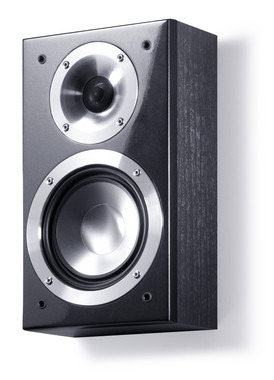 Canton's latest speakers aren't as discrete as Yamaha's new YSP-3050, perhaps, but they're likely to offer a whole lot more performance if you can stomach the extra room clutter.  Saying that, Canton are certainly trying to minimize that too: the Chrono 501 has a new, low-profile design as well as pricing reduced by 30-percent over the company's more expensive Ergo range. 
Despite the cut, you still get Canton's proprietary ADT-25 aluminum-manganese dome tweeter, as well as a 6-inch aluminum bass driver good for response as low as 40Hz.  It's available in black wood-grained finish with a gloss black front baffle and aluminum accents, or an all-silver finish.

The 501 slots in at the bottom of the Canton Chrono range, but there's a new flagship too in the shape of the floor-standing 511.  With the same tweeter as the 501, the 511 makes the most of its almost four-foot height by adding two 9-inch aluminum cone woofers and a 7-inch aluminum midrange.  Bass response goes all the way down to 20Hz, and there's a proprietary high-pass filter to eliminate signals below the audible frequency range (that otherwise might introduce harmonic distortion).
Each speaker has gold-plated terminals, and the 511 is biwire and biamp capable.  They're on sale now, priced at $1,400 and $425 each for the 511 and 501 respectively.
Press Release:
MINNEAPOLIS (7/1/08) — Canton, Germany's largest and best selling loudspeaker brand, has expanded its Chrono line of value-oriented high-performance loudspeakers with two new models, the three-way Chrono 511 DC tower and the compact Chrono 501 on-wall speaker. The new models become the largest and smallest models in the lineup, which now consists of six full-range models and a powered subwoofer.

"The Chrono line was designed to give consumers access to Canton's high end speaker technologies, but at a more modest cost than was previously available," comments Canton USA president Paul Madsen. "By employing the drivers, design and engineering of the classic Ergo series, but with less costly cabinet aesthetics, we were able to reduce pricing by over 30%, and the response has been extremely positive. By adding a new top-of-the-line tower and low-depth on-wall, we've expanded the range of applications for home theater and music systems, making it even more versatile."

Like the rest of the Chrono full-range models, the 511 DC and 501 each employ the company's highly regarded ADT-25 aluminum-manganese dome tweeter. The tweeter employs a one-piece aluminum-manganese dome and voice coil former for superior high frequency performance and heat dissipation. The driver features Canton's flared "transmission" style front plate and an advanced surround design for remarkable high frequency dispersion and off-axis linearity, reduced distortion and less susceptibility to break-up modes, giving the tweeter an effective operating range all the way out to 40 kHz.

The Canton Chrono 511 DC is a three-way bass reflex floorstanding model,  and employs two 9-inch Aluminum cone woofers, and a remarkably detailed 7-inch aluminum midrange. At just under four feet tall, it is the largest model in the line, and has an extremely linear and solid bass response that extends all the way to 20 Hz.  It also features Canton's exclusive DC technology, which uses a proprietary high-pass filter to eliminate signals below the audible frequency range, which can otherwise generate high levels of unwanted harmonic distortion in the audible lower bass range. DC technology allows the speaker to provide clear, linear bass reproduction at much lower frequencies than could be attained with conventional crossover designs.

The Canton Chrono 501 is a compact 2-way sealed enclosure speaker designed for on-wall mounting, making it ideal for use in the surround channels of a home theater system, or as high-performance architectural model when in-wall designs are undesirable. It features a 6-inch aluminum bass driver, and is capable of surprisingly powerful midrange and bass response that extends as low as 40 Hz.

Both the Chrono 511 DC and 501 feature gold-plated speaker terminals, including biwire/biamp capability for the 511 DC. The Chrono 511 features an attractive black wood-grained finish with a gloss black front baffle and aluminum accents. The 501 is available in the same black finish, or in an attractive all-silver finish.

The Canton Chrono 511 DC and Chrono 501 are each currently available at suggested retail prices of $1,400 each and $425 each, respectively.

Canton Electronics Corporation is the US distributor for Canton Elektronik GmbH., Weilrod, Germany. Canton is the largest manufacturer and best-selling brand of loudspeakers in Germany. It was founded in 1973 by a group of audio enthusiasts who defined their mission simply "to always develop the finest loudspeakers in their class." Since the late 1970s, Canton products have been available in the in the U.S., where they are popular with quality-focused specialty retailers and custom installers.

For more information about these and other fine Canton products, go to http://www.cantonusa.com or call 612-706-9250 for the name of your nearest Canton dealer.