Canon PowerShot ELPH 520 HS and 110 HS target your pocket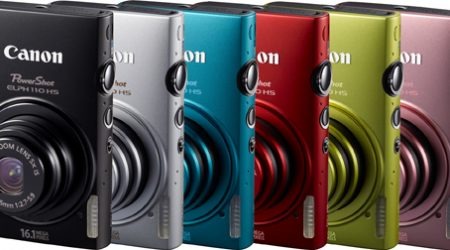 Canon's new G1 X isn't the company's only fresh PowerShot; there are also two new ELPH point-and-shoots, the 520 HS and 110 HS, each with sub-$300 price tags. The ELPH 520 HS totes a 10.1-megapixel high-sensitivity CMOS and a 12x optical zoom, while the ELPH 110 HS has a 16-megapixel sensor and a smaller, 5x optical zoom.
The 520 HS supports ISO up to 3200 and 28mm wide-angle shots, along with 1080p Full HD video capture and 6.8fps continuous shooting. The 110 HS, meanwhile, also captures 1080p and has the 3200 ISO range, but manages 5.8fps continuous shooting. Its lens is even wider, 24mm, for fitting more into any one shot.
Each camera has an "Advanced Smart AUTO" mode that picks from 58 different scene presets – including people, landscapes, pets and vehicles – using Face ID to track people in each frame. Interestingly, users can input an age range for up to 12 different people, stored in the camera, and the ELPH duo uses that range to prioritize focus to the youngest person. It's also possible to search through saved shots of one of those people.
The Canon PowerShot ELPH 520 HS will arrive in March, in black, silver, red and blue, priced at $299.99. As for the Canon PowerShot ELPH 110 HS, that will drop in February, in black, silver, red, blue, green and pink, priced at $249.99.