Cambridge Soundworks MovieWorks HD X-Fi iPod dock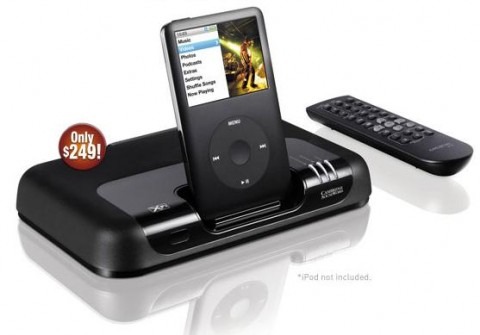 Cambridge Soundworks – a subsidiary of Creative – have announced the MovieWorks HD, a docking station for the Apple iPod range that can output high-definition video and digital audio to a connected HDTV or audio system.  The MovieWorks HD also has an integrated X-Fi Xtreme Fidelity chip onboard, together with Creative's X-Fi Crystallize and X-Fi CMSS-3D technology, and connects via HDMI.
Unfortunately, despite some of the screenshots of the MovieWorks HD resembling those seen on a Creative Zii prototype, word from the company is that the dock does not use the new "stemcell computing" chip.  Instead, you get 1080i output to your HDTV, 5.1 DTS surround sound (with a compatible receiver) and optional multiroom wireless.
The Cambridge Soundworks MovieWorks HD is available now, priced at $249.99.  The optional wireless unit is priced at $69.99, has 100ft range and up to four can be used simultaneously.
[via epiZENter]