Cadillac XTS breaks the mold with user-configurable gauges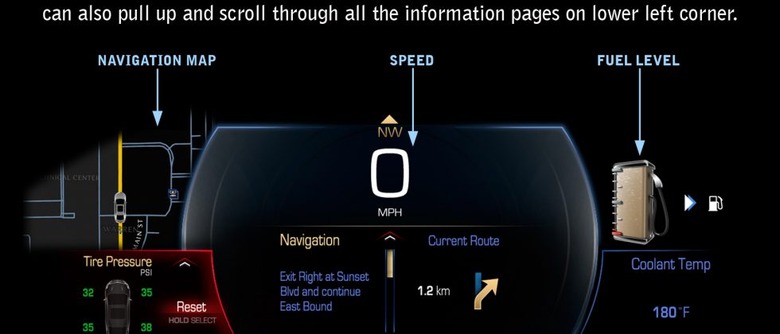 In a move that everyone in the automobile universe is going to understand instantly as groundbreaking in the simple way in which it breaks from the history of the art, the Cadillac's new XTS allows drivers to re-arrange their gauges. It makes perfect sense here in our modern mobile world that we're able to re-arrange any display we're using – why not the environment in our vehicles? Thus is the idea here with the XTS, bringing on several different displays now that we've gone digital – effectively – in the luxury segment.
What you're seeing here is a set of different dials and clusters of information on a fabulous 12.3-inch LCD screen that replaces the entirety of your traditional analog dials near your steering wheel. You'll be looking at your speed and fuel information just as you always have, but here you're able to switch them left to right, arranging the information you want to where you want it to appear.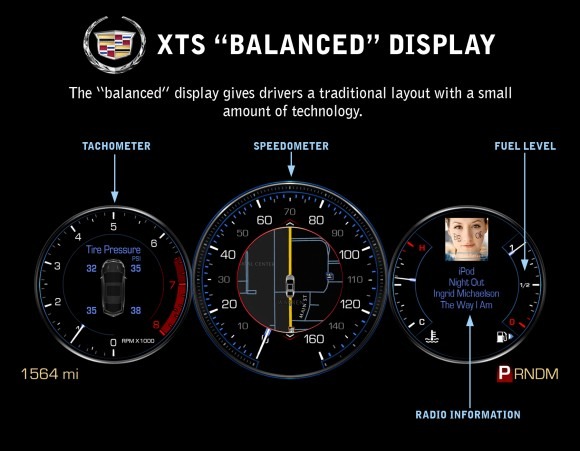 The folks at Cadillac are showing this week a collection of layouts you might use, including Simple, Enhanced, Balanced, and Performance. Have a peek above and below to see each of them and let us know which one you're planning on using! With the Balanced view you've got a traditional look at the layout with the ability to change the size and graphic quality of the display – three zones exist with a speedometer, tachometer, fuel level, outside temperature, and radio station information.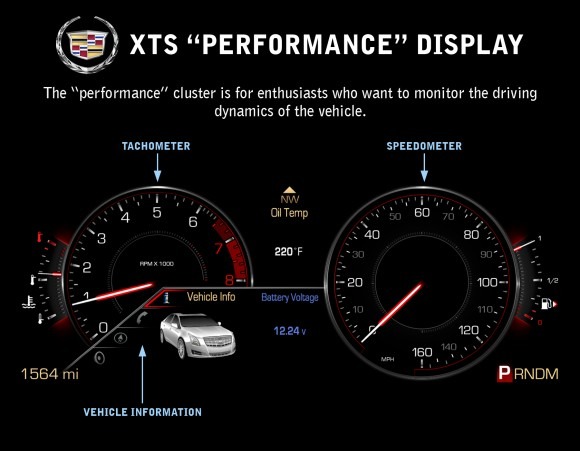 Next is the Performance layout with "enthusiast" drivers with information about the cars innards you might otherwise never see – unless you head under the hood, that is. Performance is a layout you'll be using to see the tachometer, speedometer, and a few normal bits, but with awesome additions such as fuel consumption and tire pressure to back you up as well.
With the Enhanced cluster display you'll be more connected than you've ever been before. Enhanced is a layout for the web-loving user with a "web-inspired design" that includes a navigation map on the left, digital speed and fuel readings on the right. This layout allows you to pull up and scroll through information pages with a button tap – imagine the connectivity – but don't do it while you're diving 88MPH of course.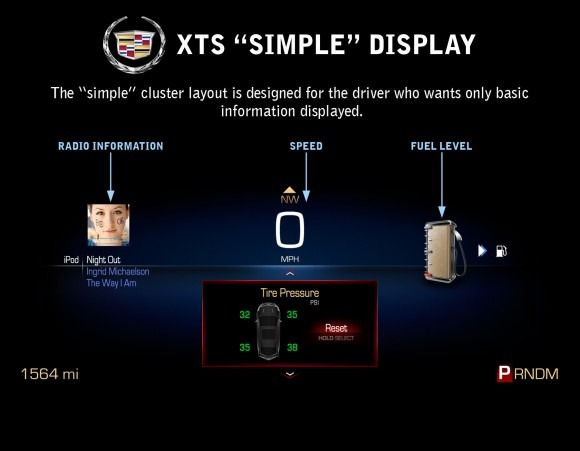 The Simple cluster layout is made for the minimalist – here coming correct with speed, fuel, and audio information. You're also able to pull up additional information in this layout, but it's hidden unless you absolutely need it. Each of these modes – all of them – also have a "screen-within-a-screen" feature that allows a smaller display to sit inside the center of the speedometer and tachometer allowing users to see navigation routes and grab radio control – just for starters.
Scott Martin, senior creative designer in charge of building the digital cluster layouts, spoke up on the project this week.
"Drivers can also further customize each layout to their own personal liking. They can flip through all the information pages to permanently display their favorite preset radio stations, check tire pressure, navigation, fuel range, and temperature among other features. ... Most drivers fall into one of four different categories in terms of the amount of information they want to see at any given time, so we built the XTS gauge cluster layouts to appeal to any one of those drivers." – Martin
[via GM]