BYD Snaptop Tablet Hands-On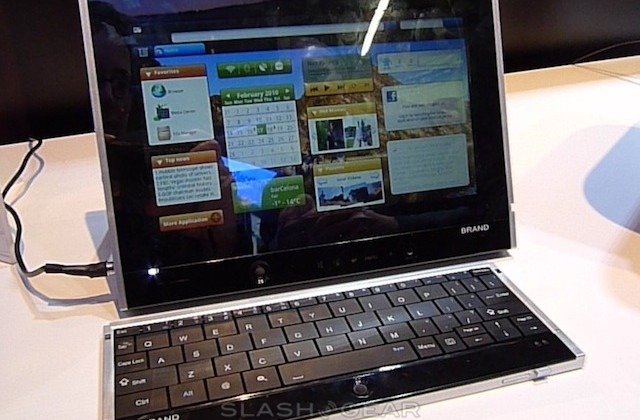 You might recognize BYD's Snaptop prototype from back in November 2009, when we grabbed some hands-on time at a Qualcomm press event.  The difference at MWC 2010 this week was that the Snaptop is now functional, rather than a mockup; you still get a touchscreen, flip-out kick-stand and a wireless Bluetooth keyboard which docks into the back of the tablet for storage and portability, but now the whole thing actually works.
Video demo after the cut
The OS is a customized version of Android 1.6 Donut, with various desktop widgets and other enhancements that basically take advantage of the extra screen size over and above a smartphone.  Digital picture frame duties are an obvious possibility, and there's a great finger-friendly interface (albeit in Spanish at the moment) for navigating through slideshows and galleries.
Keeping things ticking over is Qualcomm's Snapdragon QSD8250 chipset, though we're not sure on other specifications; Bluetooth is obviously a given, since the keyboard requires it to connect, and we're guessing there'll be WiFi and possibly even 3G in there too since that fits the smartbook mould.  Sadly no talk of a production version, though we're sure if we all pester BYD enough they might consider it.