Buy a Chromecast for $30, get $20 in Google Play credit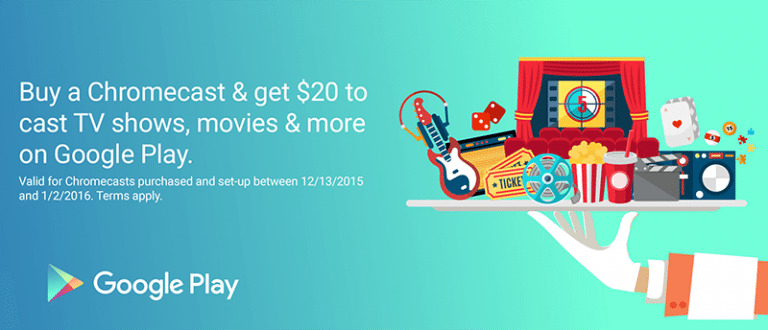 Google's Chromecast line has been getting some nice updates and features lately, which is making it a tempting buy for many people. Whether you're interested in the redesigned Chromecast 2 or the Chromecast Audio, now might be the best time ever to pick one up. Why? How does an effective price of $10 strike you?
No, you won't be walking out of a store with one of these for just $10. However, what you will get is $20 in Google Play credit when you purchase and activate one. All you need to do is purchase and setup a Chromecast or Chromecast Audio between now and January 2nd, 2016.
Now normally you'd find these for $35, but you can find them for cheaper at places like Best Buy and Walmart. Both stores appear to be selling the devices for $30 each, or two for $55.
This is great news, especially with the announcement that multi-room streaming has finally come to the Chromecast Audio. If you already have one, a $10 investment to grab a second seems like a steal. You're likely only going to get the $20 in Google Play credit for one device, so don't get greedy.