Buffalo HD-AV500U2/SC And HD-CL500U2/SC PS3-Certified 500GB Hard-Drives Hit Japan

Remember Sony's PS3-compatible labelling for external hard-drives, which the company tipped was incoming at the Japanese Torne TV tuner launch?  The first fruits of that scheme have now been revealed, in the shape of two Buffalo drives.  The Buffalo HD-AV500U2/SC and HD-CL500U2/SC are each certified to play nicely with the new digital TV tuner, and each offer to boost PS3 storage by 500GB.
The main difference, then, is the design, with the HD-AV500U2/SC intended to sit horizontally and having a piano black finish and front-panel LED capacity indicator, while the HD-CL500U2/SC is more sober in its matte black finish, lacks the LEDs and is intended to stand upright.  Both hook up to the PS3 via USB 2.0 and can also be used to backup core console content, store multimedia and other files.
The Buffalo HD-AV500U2/SC will be priced at 14,800 yen ($164) and the HD-CL500U2/SC at 11,800 yen ($130); they'll both arrive in Japan come March 2010.  No word, however, on why you'd specifically pick up these drives as opposed to any other USB 2.0 hard-drive, which already play nicely with the PS3.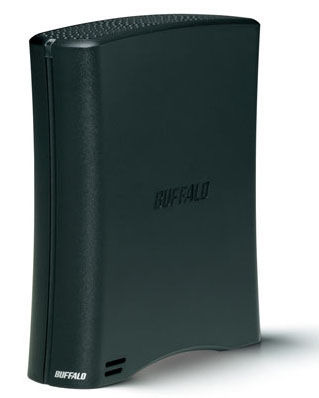 [via StrategyInformer]