Bucking trends, Acura reveals vision of tomorrow's dashboard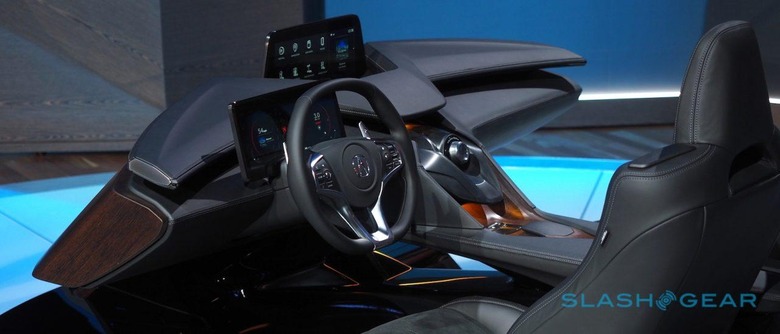 A concept car might be an eye-catching flight of fancy, but considering most of our time is spent inside our cars, concept interiors like Acura's Precision Cockpit are arguably more important. Revealed at the LA Auto Show today, the carless-concept is the fruit of single team responsible for materials, design, and software as Acura readies itself for an increasingly-connected, often-autonomous future. It's also the Japanese premium car company's opportunity to school rivals on just how dashboard interaction should behave.
The concept cockpit is the follow-up to Acura's Precision Concept, revealed at the start of the year at the North American International Auto Show. While the imposing red sedan did have a suitably dramatic interior at the time, Acura execs were clear that it was the exterior that would inspire future models, not the concept's cabin. That came to fruition in short order, in fact, with the refreshed MDX wearing the distinctive grille when it launched just a few months later.
We may have to wait a little longer for the Precision Cockpit to show up in production cars. Acura wouldn't tell me exactly when it could be a feature of vehicles you could actually buy, though did say that it was expected to filter through in the coming years. The intent, though, is clear: this is the fruits of Acura's best guess – supported by tens of thousands of hours of research and development – about how best to pilot the modern semi-autonomous car.
It's an answer that goes against the grain of what many others in the auto industry are doing. While the modern dashboard is usually a finger-enticing plethora of touchscreens, Acura has eschewed such things with the argument that, though perfect for tablets and smartphones, they're not especially suited – or safe – for cars. After all, since you need to look where you tap, you have to take your eyes off the road.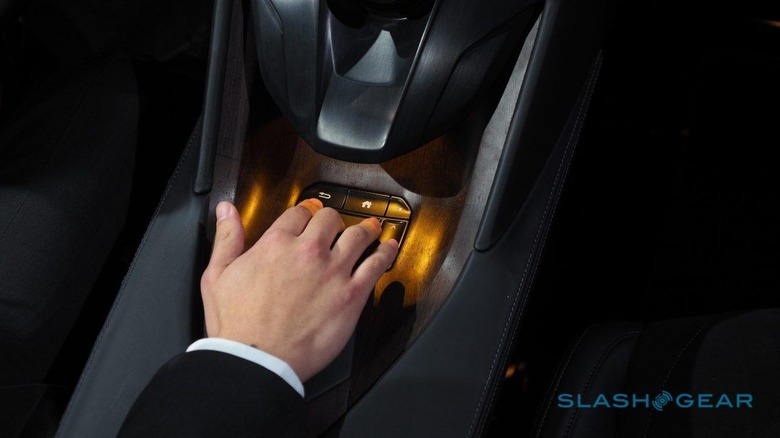 The automaker's new alternative is, ironically, something you might have experimented with on you laptop years ago. The Precision Cockpit concept has a touchpad mounted down low in the center console, positioned just right for your fingertips to dangle atop it when you rest your wrist on the leather pad. It's topped with a couple of shortcut buttons for Home and Back, with a touch-sensitive scroll strip to its right.
Touchpads aren't new in cars either – Lexus tried, albeit half-heartedly, to replace its little-loved joystick controller with one – but what makes the difference in Acura's case is how taps are registered. Dubbed "Absolute Positioning" it's basically a 1:1 mapping of points on the touchpad to points on the wide 12.3-inch display on top of the dashboard. A tap in the top right corner always refers to what's in the same spot on the display, for instance.
The idea is that, just as you get familiar with the location of physical buttons on a dashboard over time, so you get used to positions on the touchpad and how they relate to what's on the screen. According to Acura, it was a matter of minutes before its testers got to grips with the system, in fact.
Similar absolute-mapping on laptops has always been less than ergonomically successful, primarily because the resolution of the display and the content on-screen usually demands smaller movements than are practical on a laptop-scale trackpad. In Acura's case, the chunky icons are far easier to hit. The display itself is split roughly 60/40 into two panels: a primary display for apps, navigation, and such on the left, and a narrower screen dedicated to music, weather, and notifications on the right.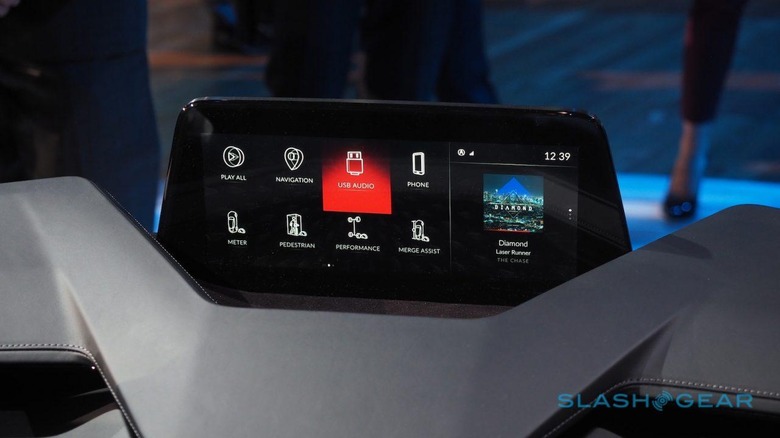 Both touchpad and center display are positioned for anyone in the front to use. For the driver alone, there's a second 12.3-inch screen for virtual instrumentation. With a human at the wheel, that shows things like a speedometer and the usual dials you'd expect; when the car is driving itself, under conditions like adaptive cruise control or – in the future – entirely autonomously, it changes considerably.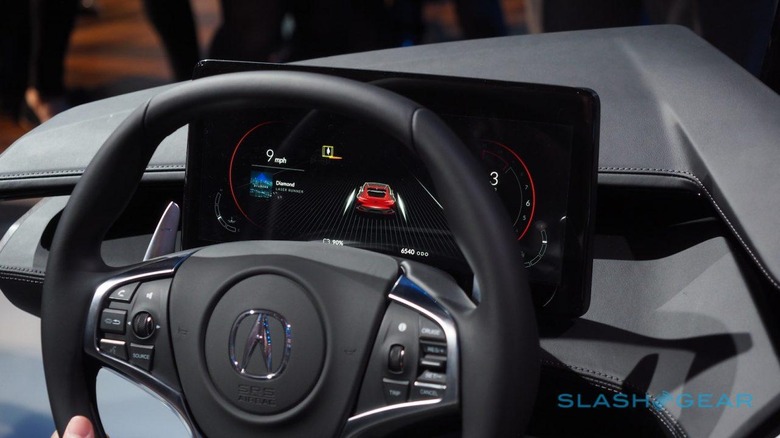 Instead, you get a full 3D digital view of the road ahead, on which are flagged any obstacles, other road users, and pedestrians that the car's cameras and other sensors have spotted. It also uses vehicle-to-vehicle communication, so that other autonomous cars can make their presence – and their self-driving status – known. By showing it all on-screen, Acura aims to build trust in the car's abilities, on the basis that if you see what's been spotted you'll be more confident than merely having faith in the technology.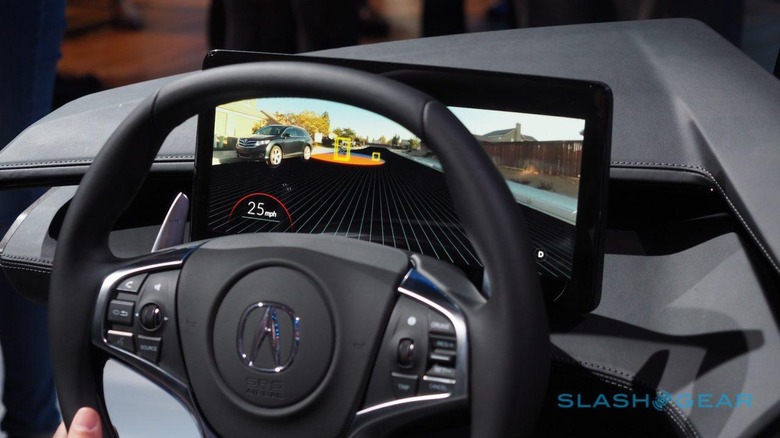 Meanwhile the car uses artificial intelligence to predict how other cars, pedestrians, and cyclists will move, showing those pathways as arcs across the virtual roadscape. The whole thing is based on Android, though Acura wouldn't tell me what processors and other systems it's currently using. That may well change by the time of production, anyway.
What we do know is that it'll all be connected, and dressed in materials a welcome step away from the plastics of Acura's current cabins. Instead, there'll be greater use of brushed metal and untreated wood, along with leather and Alcantara. A nice departure from the de rigueur aluminum is copper and matching amber LED lighting.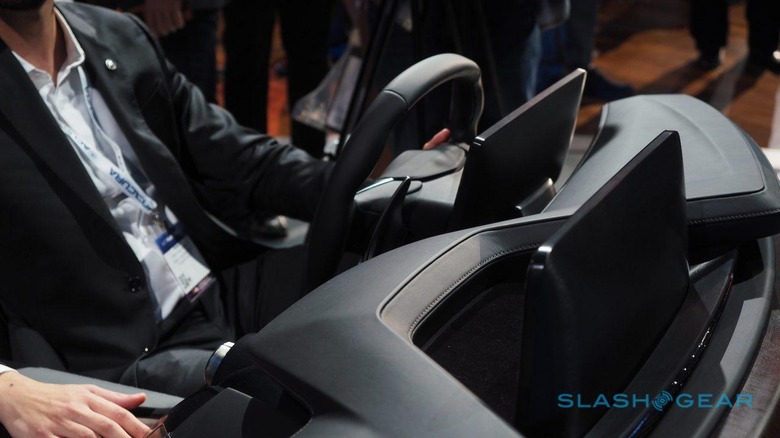 NOW READ: 2017 Acura NSX first-drive
How much of that will make it into production models will obviously depend on price point. Nonetheless, given one of our criticisms of the new NSX was how its dashboard didn't quite live up to rivals for touch-point feel, any move to address that in general is a good one. Notably, the hybrid supercar inspired the seats, steering wheel, and rotary drive mode controller in the Precision Cockpit concept.
Of course, however much Acura does to improve its own human-machine interface, it – like the rest of the auto industry – faces growing competition from other UIs we carry in our pockets. Smartphone connectivity is not just a pleasant addition but an expected feature of the modern vehicle, even if Android Auto and Apple CarPlay are still comparatively limited. Acura's hard work with the Precision Cockpit could be for naught if drivers settle into the seat and cover up the whole thing with a projection from their iPhone.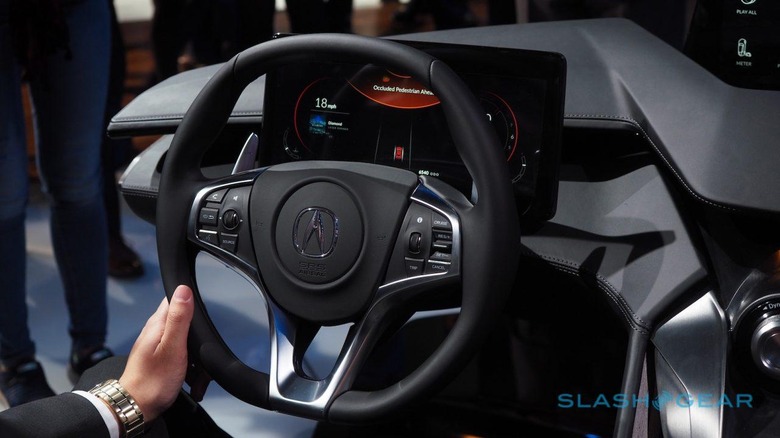 The designers behind the concept told me it was too early to discuss exactly how it envisages that connectivity equation panning out, but say that they have some ideas about how smartphone information could be successfully – not to mention safely – communicated with the person behind the wheel. Their window of opportunity is undoubtedly narrowing, though. Neither Apple nor Google is slowing in attempting to colonize the modern dashboard, especially with rumors that the first evidence of car tech from both firms won't be production autonomous cars but instead an effort to license their software efforts to mainstream automakers.
For now, we'll have to imagine what a vehicle with the exterior of the Precision Concept and the interior of the Precision Cockpit might be like on the road. As Acura attempts to shift itself out of the shadow of Honda, the promise is that both of the 2016 concepts give the best vision yet of what the next generation of cars will look like and how they'll behave. If the NSX has shown us anything, it's that the engineers there know how to make a well-performing car; now, they need to distill that enthusiasm to the rest of its sedan and SUV line-up.