BT planning home media tablet with video calling & apps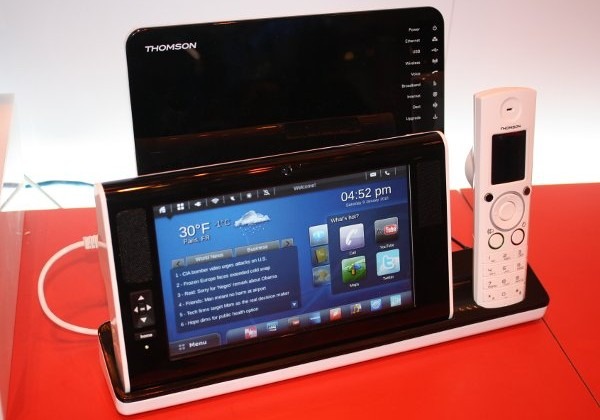 When is an iPad rival not an iPad rival?  Why, when it's "the telephone of the future" of course.  UK telco BT stirred controversy recently by demonstrating a touchscreen tablet device at their annual strategy day, prompting speculation that they were looking to take on Apple's iPad with a device of their own; however, according to Ian Livingston, chief executive of BT, the tablet is actually a home-centric communication device rather than a true "mobile computer".
"Some people have called it an 'iPad killer', but not us.  We see it as is a new device that would be in the kitchen or the lounge, so that you have all your communications in one place – your email, your voicemail, your text messages" Ian Livingston, CEO, BT
The tablet is believed to have a smaller display than that of the iPad, but will be able to not only browse the internet and send emails, but make voice calls either via a Bluetooth headset or a speakerphone, and send & receive text messages.  There will also be widget-style apps for weather updates, news and other streaming content.
Livingston reckons the device has been driven by consumer demand rather than an attempt to fill a niche.  "We've talked to a lot of customers about it," he explained, "it's not just something we've dreamed up. We've designed something around what the customers have said rather than around what technologists have said."
We're still yet to see the tablet itself, which sounds a lot like the Orange Tabbee and SFR Hubster tablets already available in France.  Recently Thomson demonstrated their "Portable Info Center", shown above, a dockable slate that also looks to include a WiFi router and DECT phone base station.
[via mocoNews]