SFR Hubster WiFi home internet tablet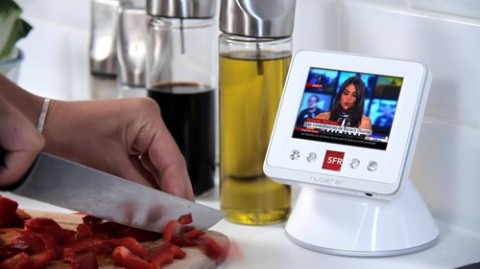 With rival carrier Orange France rocking their Tabbee WiFi tablet, SFR are retaliating with a compact companion device of their own.  The SFR Hubster is currently in trials across France, offering a compact touchscreen, streaming photos, music and video, together with internet access over WiFi or a wired ethernet connection.
Other features include a voice recorder that's linked into the Hubster's timer; after recording a message you can program in a time for it to be replayed.  Podcasts, MP3 files or the radio can also be used as alarms, and there seems to be TV support though it's unclear whether this is streaming over the internet connection or from an actual TV tuner; the former seems more likely.
Onboard storage is courtesy of SD/SDHC/MMC cards, and the Hubster is happy with MP3, WAV, WMA and RA audio files, and FLV and MP4 video files.  The SFR Hubster will go on sale in France from June 15th, priced at €129 ($182).
[via Generation MP3]