Brando 2-in-1 SD card reader USB cable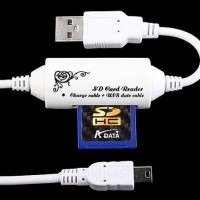 The last Brando product to grace these pages – their LCD Bluetooth Vibrating Bracelet – fell more than a little short of impressing us.  Today it's back to basics with a USB cable, but it's actually a cable with a neat in-line difference: Brando have taken a standard USB to miniUSB cable and added an SD card reader.
That means you can not only use the cord to charge up or synchronize your cellphone, smartphone or PMP, but you can also slap in an SD card (or an SDHC card, or a microSD card with the adapter you get bundled with just about every new microSD chip) and save a precious USB port on your computer.  The card does stick out some way, so it's obviously not intended for permanent data storage, but for grabbing images from a digital camera it could be very useful.
Best of all is the price: a mere $12.  We imagine Brando are already cooking up a version with a multiformat card reader, though of course that could add to the bulk.
[via Pocket-lint]