Boxee TV on sale now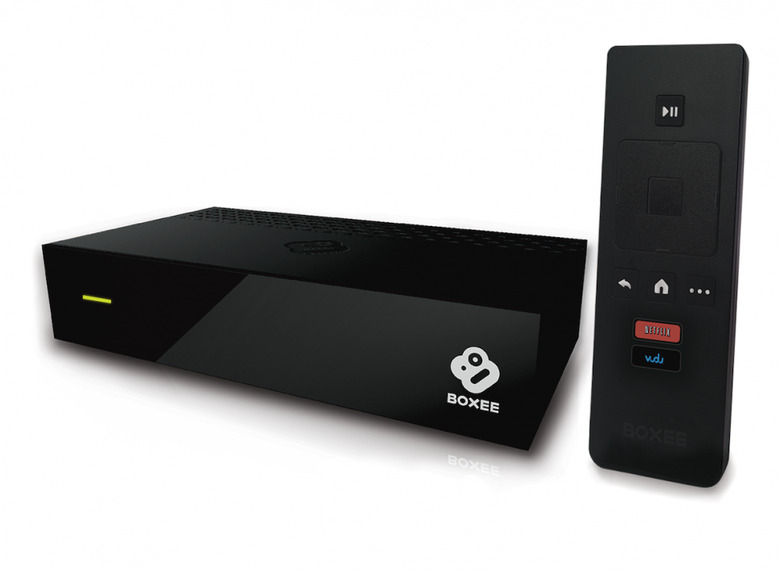 Boxee's new Boxee TV media streamer has gone up for sale, with retailer Walmart exclusively offering the internet-connected set-top box for under a hundred bucks. The $98 box, announced last month, has twin tuners and supports digital antenna and basic cable, along with streaming services such as Netflix, VUDU, YouTube, Pandora, and Spotify. Meanwhile, there's also a subscription-based digital recording service.
Boxee "No Limits DVR" is a digital recording service that hosts saved shows in the cloud, pushing them out to any mobile device or Boxee TV unit you might have. Interestingly, Boxee's site claims it will be priced at $14.99 per month – with limited availability, depending on what US city you're in; the initial launch covers New York City, Los Angeles, Chicago, Dallas, Houston, Atlanta, Philadelphia, and Washington D.C - while Walmart says it's $9.99.
When you're bored of TV there's access to Facebook, Twitter, and Tumblr, along with all of your own local media, such as photos, videos, and music. Broadcast channels supported include ABC, CBS, Fox, and NBC, and of course you don't have to pay for "No Limits DVR" if you're not interested in saving shows.
Unfortunately, the arrival of the Boxee TV has a sting in the tail for those with the previous Boxee Box by D-Link. Boxee has confirmed it's ceasing development of the older hardware, though will still release bugfixes and security patches as necessary.