Boxee add App Box, API, Pandora & Hulu-happy browser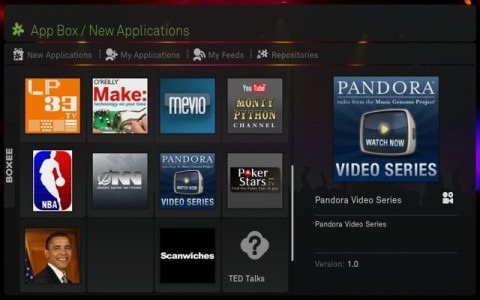 Boxee have launched a new version of their open-source media center app, together with an API for developers and a new download service called App Box for third-party extensions.  The company has also confirmed that they are in talks with manufacturers to get Boxee loaded onto games consoles, Blu-ray players and other set-top boxes.
To demonstrate the new API, Boxee has released two initial plugins: Pandora and RadioTime.  The former allows users to sign in with their standard Pandora account, set up stations and listen to existing Quick Mixes, while the latter offers over 100,000 streaming radio stations.
Eventually developers will be able to charge for their Boxee plugins, but for now all extensions will be free.  Boxee have also answered the call for Hulu support by embedding a Mozilla-based browser into the media center.  You can download the latest version of Boxee, v0.9.11.5591, here.
[via ArsTechnica]