Boxee update: Hulu RSS, auto-update & app store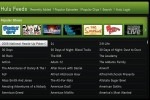 Boxee have released an updated version of their eponymous media center software, but the much hoped-for Hulu reintroduction is not part of it.  Instead, the new Boxee adds a software download store called App Box, an RSS reader (which can display Hulu video feeds) and auto-update functionality.  The team has also revealed the results of its latest round of talks with Hulu.
According to the Boxee blog, while Hulu and the other industry representatives they spoke to still declined to be re-added to the media center software, they do "get" digital content delivery.  Boxee says the industry needs time, but since the users aren't willing to wait the new RSS reader is fully compliant with Hulu public feeds and video content, among other sources.
App Box, meanwhile, will not only offer plugins from Boxee themselves, but also supports third-party repositories which users themselves can add to the catalog.  All this comes with a warning, however: the latest Boxee release has only been through minimal testing, and if you're not willing to play the part of early beta tester you may want to wait until March 24th when a more stable update should come out.