When smartphone cameras are increasingly the go-to snapper of choice, you have to do something unusual to stand out, and Bonzart's oddly retro Ampel certainly does that. Styled – and in fact named – after German traffic signals, the odd twin-lensed camera looks like it should be a toy, but does something for its $199 price tag that most cameras would demand specialist lenses for: native tilt-shift photos and video.
We caught up with the Bonzart (GDC) team at the CP+ camera show in Japan this week to have a look at the Ampel, which is available in the US, Japan, and UK. Styled and operated like a twin-lens dual reflex camera, the Ampel has a flip-up panel on top revealing a color display, as well as dedicated mode dials on the side for each of the lenses.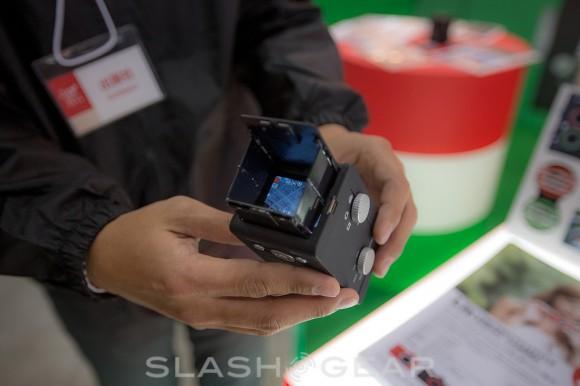 One of those lenses shoots normal images – albeit with the choice of either 4:3 or 1:1 (i.e. square) aspect ratio – while the other shoots tilt-shift images, making everything look like a miniatures scene. Up to 5-megapixels images can be captured, or up to 720p HD video, and there's a 4x digital zoom though no optical zoom.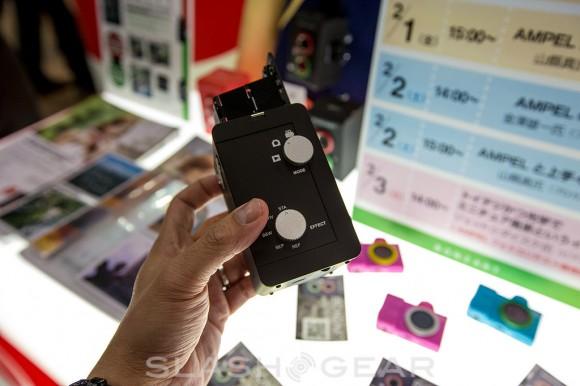 What you can do is snap on a magnetic wide-angle lens, which fits to either the regular or tilt-shift lenses. If the unusual aspect ratio isn't enough for you, you can also apply some integrated effects: there's standard, vivid, B&W, sepia, and "refreshing" to choose between. Storage is courtesy of a SD card up to 32GB.
It might not be the first camera you reach for to take wedding photos, but for a party the Ampel is certainly unique enough to stand out. Plus, with dedicated tilt-shift lenses running at around $300, the $200 Bonzart camera is practically a bargain.