Bollinger Motors electric B2 pickup and four-door B1 truck revealed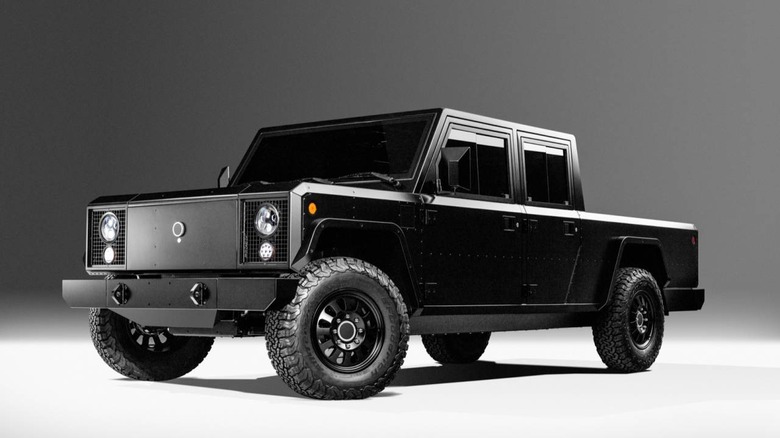 It's fair to say the world of electric trucks is getting a whole lot more interesting of late, and Bollinger Motors is aiming to capitalize on that with the big reveal of its latest B1 and B2 models. The Detroit-based automaker was only founded back in 2015, but already has three iterations of EV truck on its roadmap.
The first was the Bollinger B1 two-door in 2017, at the time described by many as 21st century, electric version of the classic Defender. Its slab-sided aesthetic hid a number of interesting design elements, like a pass-through tunnel that runs the entire length of the vehicle for carrying oddly-shaped cargo.
Underpinning it all was a Class-3 truck platform, and an dual-motor electric drivetrain that gave the B1 200 miles of range and a 0-60 mph time of 4.5 seconds. Torque clocked in at 472 lb-ft, and there's a 6,100 pound payload capacity. At the time, Bollinger was aiming for a 2019 launch; now, production is expected to kick off in the latter half of 2020.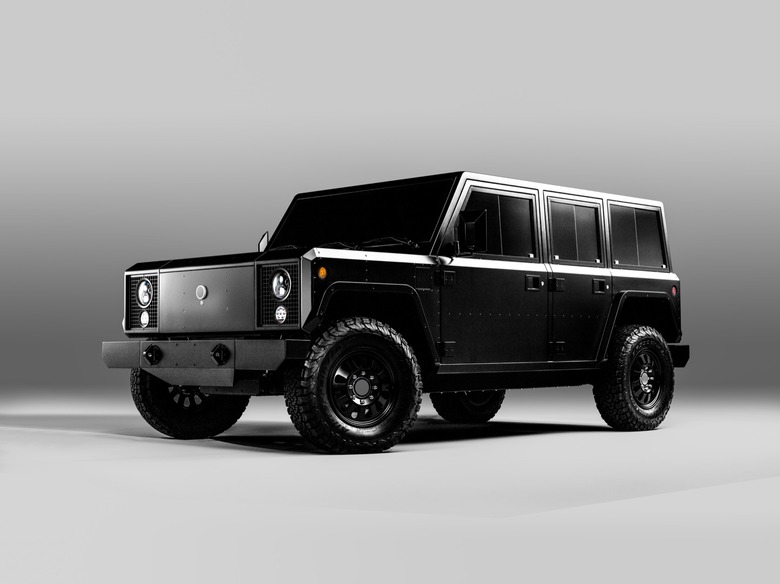 The original B1 two-door has been joined by two new models today, a four-door B1 and a B2 electric pickup truck. Both use the same Class-3 platform and dual motor architecture, not to mention share the same, blocky style. They're not just tough-looking, though; the automaker promises that the performance lives up to the design.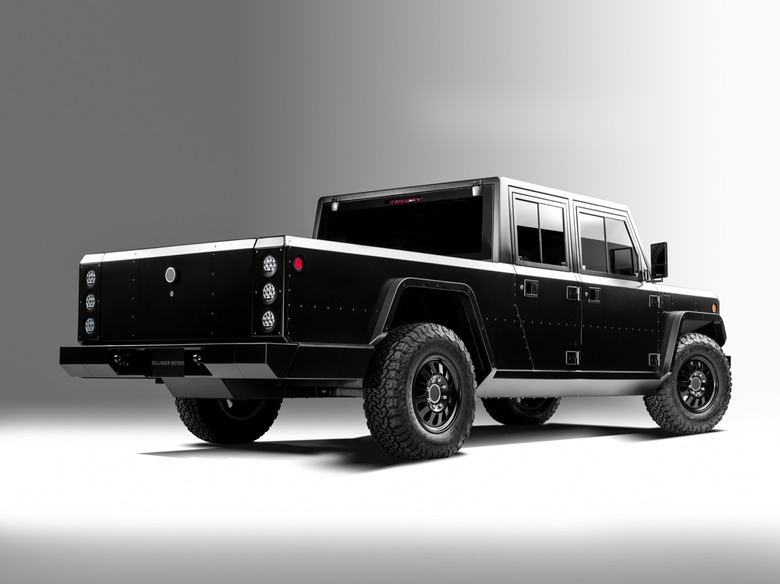 So, there's 614 horsepower and 668 lb-ft of torque, allowing both trucks to keep the 4.5 second 0-60 mph time despite being bigger and presumably heavier than the two-door B1. Top speed is 100 mph.
Bollinger uses a two-speed, Hi/Lo range gearbox, and both the four-door B1 and B2 pickup have 15-inches of ground clearance and 10-inches of wheel travel. There's a total of 10- to 20-inches of variable ground clearance. The brakes use 11.75-inch vented discs.
As for the practical stuff, both models have a 5,201 pound payload capacity and a 7,500 pound towing capacity. They keep the clever, patented pass-through door system, and use a 120 kW battery pack. Bollinger isn't talking about exact range yet, but somewhere in the region of 200 miles seems likely.
Clearly these aren't going to be the electric trucks for everybody. That's not to say that Bollinger Motors is designing them solely for off-road use. The company insists that they'll be engineered to be road-legal worldwide.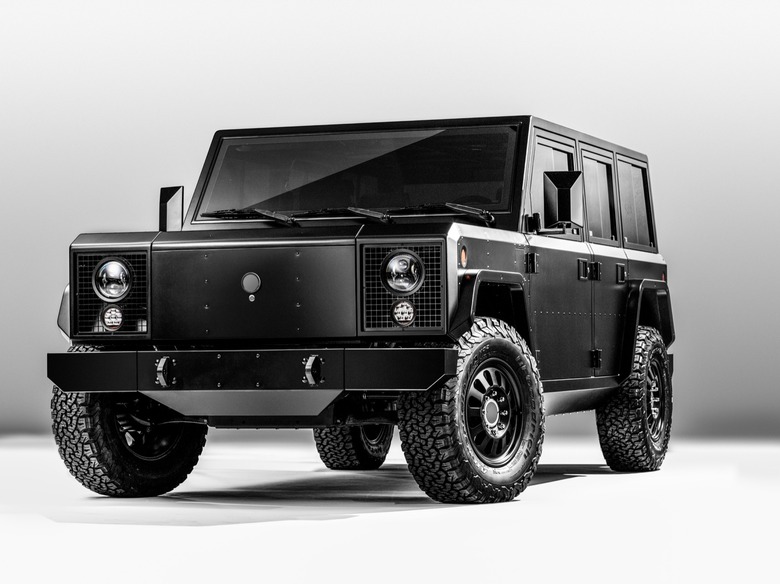 For now, we just have these beta prototypes to go on. More details, like pricing and when we can expect to see production start, will be released in the coming months, Bollinger says. At a time when everyone from Rivian through Telsa to Ford and GM are planning fully-electric pickups, the segment is getting more crowded, but Bollinger's uncompromising aesthetic may well help the automaker stand out.