Meet Bollinger Motors' B1: the first EV off-road truck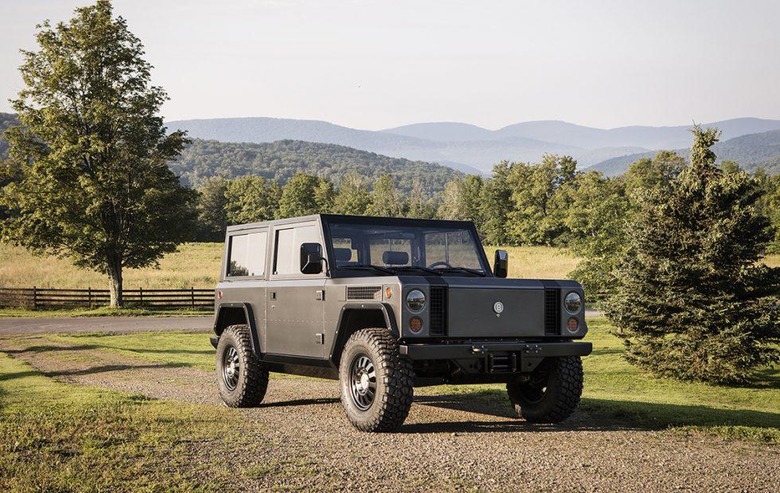 This week saw the announcement of the world's first all-electric sport utility truck (SUT). But it didn't come from Tesla or any of the major car manufactures. It's called the B1 and it's made by Bollinger Motors, a small startup in upstate New York. With looks that fall somewhere between the Land Rover Defender and a classic Jeep Wrangler, the minimal, boxy truck is capable of 200 miles of off-roading range.
Right off the bat, the B1 has a number of impressive specs. The dual electric motors provide 360 horsepower and 472 lb-feet of torque, giving the SUT a 0 to 60mph time of 4.5 seconds and a top speed of 127mph. Bollinger Motors says its 100kWh battery will offer a range of 200 miles — just within reach of the 220 miles from Tesla's new Model 3. There's also a 60kWh battery option that gives the B1 120 miles of range on a single charge.
Other specs include a total weight of 3,900 lbs with 50/50 distribution, a 6,100-pound payload capacity, a 15.5-inch ground clearance that can be raised or lowered by 5 inches, and it can handle approach angles up to 56 degrees and departures up to 53 degrees.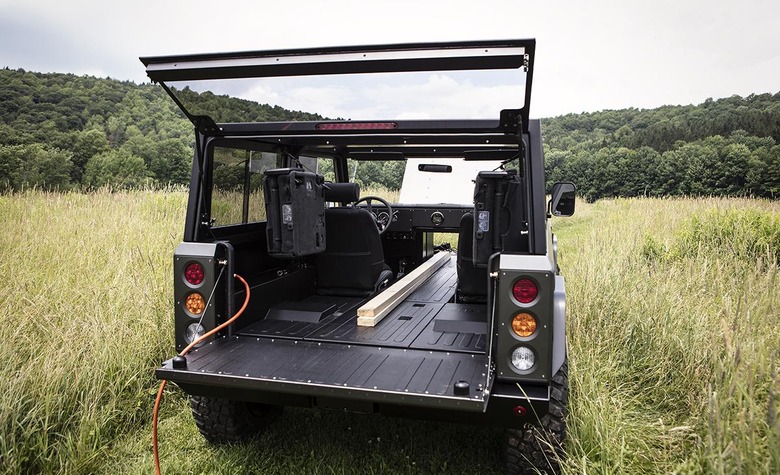 The interior is about as minimal and straightforward as you can get. There's a steering wheel, a couple of analog gauges on the dashboard, and few features beyond an AM/FM radio, Bluetooth, and an AUX port. The real focus is on space, with not only the rear seats being removable, but the doors, roof, and rear windows as well. The truck area measures 49 inches wide between the wheels, and there's even a front trunk space where a traditional engine would be.
Bollinger Motors says it will begin taking pre-orders for the B1 next year with a $1,000 deposit, and it expects first deliveries sometime in 2019. However, the company is not yet ready to reveal details on manufacturing partners and pricing, but notes the B1 should be priced comparable to a "nicely equipped sport utility vehicle."
SOURCE Bollinger Motors