Boeing's R2-D2 themed 787 Dreamliner hits the skies next month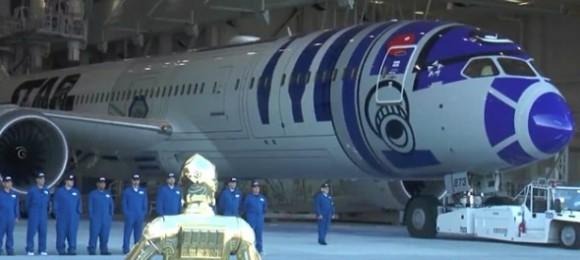 Get ready to book some airline tickets, Star Wars fans, as Boeing's new R2-D2 themed 787 Dreamliner will begin service next month. The droid-designed aircraft represents one of the first big international marketing pushes for the upcoming Star Wars: The Force Awakens film. The plane will be operated by Japanese airline ANA, which has also revealed several other Star Wars themed aircrafts that will take to the skies soon.
The ANA aircraft will begin service on October 18th, serving the route between Tokyo and Vancouver. It will eventually be used on flights to Munich, Paris, Seattle, Sydney, and more at a later date. Of course, it's not just a bunch of Star Wars decals slapped on the outside, as passengers on the flight will be able to enjoy all six of the first films in the series on the in-flight entertainment screens at each seat. Plus, things like cups, headsets, and napkins will all feature a Star Wars connection.
Among the other Star Wars themed planes ANA is getting from Boeing include one designed after the early breakout star from The Force Awakens, droid BB-8. The little ball-shaped hero adorns a Boeing 767 that will be serving domestic Japanese flights, so plan an overseas trip including a flight within Japan for when it takes off in November.
The R2-D2 aircraft was just recently completed by Boeing in Washington, and as their latest 787 model, the 215-seat plane includes a number of advancements for passengers, including larger windows, more seat space, and a more comfortable cabin pressure. Those features will probably be the last thing on your mind if you manage to get a flight on one of these Star Wars airplanes, as you'll be too excited for the December 18th release of The Force Awakens.
VIA Digital Arts