Boeing 787 Dreamliner Back In Service In The US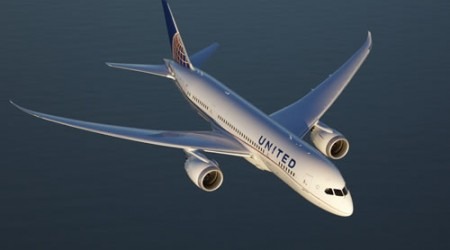 After a four-month-long grounding due to a battery issue, the Boeing 787 Dreamliner is back in action in the US, with United Airlines announcing that the first flight since the grounding occurred today and took passengers from Houston, Texas to Chicago, Illinois. Boeing has fixed the battery issue, and is sticking with lithium ion, but they have changed the design to prevent overheating.
Interestingly enough, the 787 Dreamliner's first flight in the US was also from Houston to Chicago, so it seems that United is essentially starting all over again from the beginning with its flight schedule. United Airlines tweeted the news today, along with a photo saying, "I'm back by popular demand," referring to the 787 coming back from its four-month hiatus. However, we're not sure a lot of passengers are going to be too crazy about boarding a plane that was once grounded for malfunctions.
The Dreamliner's lithium ion battery had overheating issues in multiple planes, leading to emergency landings and then eventually to a fleet-wide grounding by the FAA in order to further investigate the issue and fix the problem. The FAA grounded all 787 aircrafts back in January, and the planes were then clear to fly again in late April.
As for what the future holds for the 787, let's hope the battery fixes hold up, or else Boeing will face even more scrutiny. It's not unheard of for the same aircraft fleet to experience multiple issues, but we're sure that Boeing and airlines flying 787s don't want to have to deal with such a problem again, especially with such a new plane that comes with new technology.
The fix for the 787s was estimated at $23.5 million for the entire fleet, which the airlines themselves didn't necessarily have to pay for, but we're guessing United Airlines and others lost a bit of money due to canceled flights and the need to reschedule future flights that were planned to take the Dreamliner to their destination.