Bob Ross launches Twitch's painting channel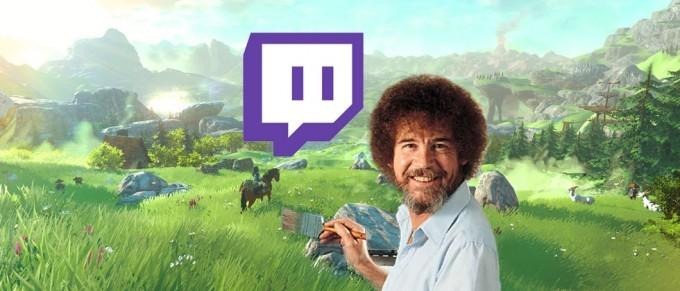 Well, Twitch has officially launched into unknown territories. This week begins the full broadcast of all 403 episodes of The Joy of Painting with Bob Ross. This launch is being done to launch a second Twitch homepage for Twitch Creative. This second homepage will be partnering with Adobe as a launch sponsor, and the page won't necessarily be all about gaming. Instead, this page will be about artists – and maybe we'll see some game developers creating happy little sprites, too, who knows.
Let's be clear here: the title of this article isn't 100% accurate. Twitch's newest venture isn't all about painting. But the launch is. While Twitch has thus far been mostly about gaming and watching gamers game, this Bob Ross experiment is strange. Completely non-gaming. As far away from gaming as you can get, basically.
But it's not far away from the basic tenants of Twitch: watching someone else work. Watching something unfold.
Bob Ross is the most universally-known example of this phenomena happening well before Twitch was even a thing.
So what better way to launch the newest Twitch venture?
According to the Twitch Creative FAQ, this does not mean Twitch will be moving away from gaming. Not at all.
Q. Wait, isn't Twitch about games?

A. Our commitment to gaming remains unchanged. Creative on Twitch does not come at the expense of all the awesome gaming channels and events we support. We are pursuing this expansion because we think bringing artists and gamers together will make both even better. Demonstrating that gamers are valuable to artists and the wider creative world is important for the future growth of Twitch and the larger gaming industry.
Twitch recently launched a music experiment as well. We saw Rhymesayers bring the heat with a big collection of music for gamers to play while they game. Now that bit – all the music – is coming along for the Twitch Creative ride.
Above you'll see the Bob Ross channel – the action begins at 2PM Pacific Time – that's 4PM Central, 5PM Eastern Time. According to Twitch, "If you create along with Bob Ross, tweet out your creation to @twitchcreates!"