B&N NOOK HD and HD+ revealed: We go hands-on!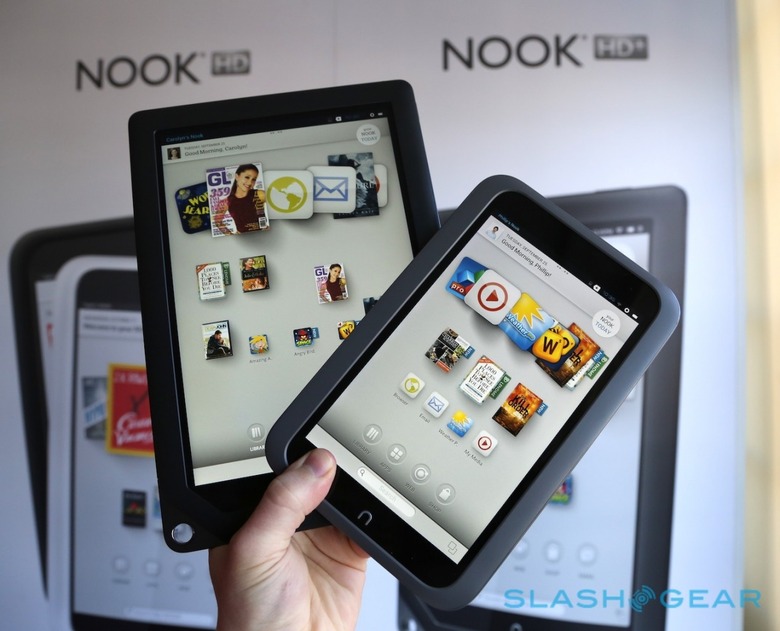 Barnes & Noble has refreshed its NOOK tablet range, revealing the NOOK HD and NOOK HD+, a duo of high-definition Android-based slates with some ambitious aspirations. Replacing the well-esteemed NOOK Tablet, the two new models balance competitive pricing – kicking off at $199 for the 7-incher and $269 for its 9-inch sibling – with impressive specifications, not least eye-catching HD displays. We caught up with B&N for some early playtime with the touchscreen pair.
While the tablet market is ever-expanding, Barnes & Noble has three main competitors: Amazon's Kindle Fire line-up, recently updated; Google's low-cost Nexus 7; and Apple's new iPad. At first glance, however, the two new NOOKs shape up to be worthy alternatives in many ways.
NOOK HD
The smaller of the two new models, the NOOK HD offers the highest resolution display of a 7-inch tablet on the market: 1440 x 900, for 243ppi and support for 720p video playback. Tipping the scales at 315g, it undercuts the Kindle Fire HD and, at 127mm wide, is narrower too; that makes it more comfortable to grip with one hand. B&N has reused the soft-touch plastic coating of the NOOK Simple Touch - here in either "snow" white or "smoke" grey – for an easier to hold design, complete with a contoured back panel.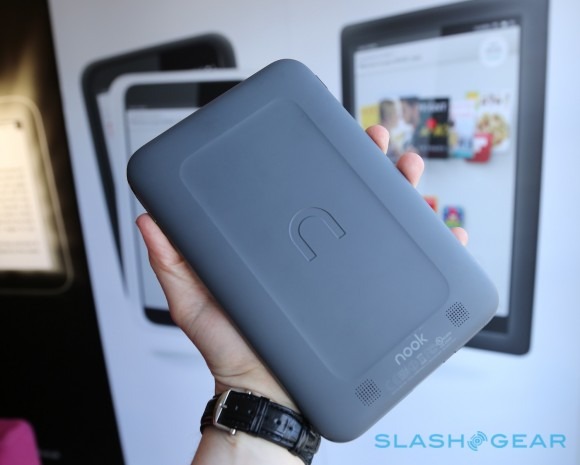 Inside, there's a 1.3GHz dualcore OMAP 4470 processor paired with 1GB of RAM and either 8GB or 16GB of internal storage; a microSD card can be used to expand that, and there's Full HD video output, albeit requiring a special dongle. B&N says the NOOK HD managed 60fps in GL Benchmarks – double what the Kindle Fire HD achieved – and its higher-resolution display uses optical lamination for improved graphics.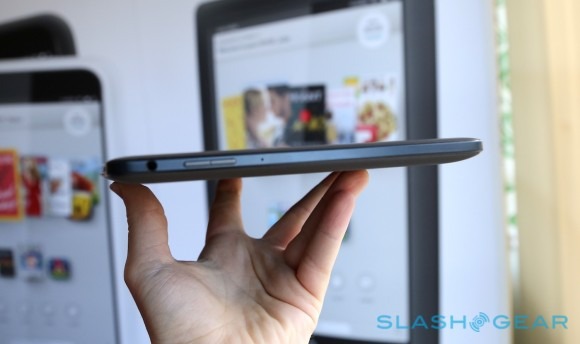 It's certainly an admirable screen, with incredibly broad viewing angles: we were able to get entirely side-on to the slate and still see no color inversion. Side-by-side with a Nexus 7 – a device the screen of which we've praised before – and the difference in clarity and color saturation was clear, the NOOK HD coming out ahead of its ASUS-made rival. Google's pure Android tablet has a front-facing webcam, something the NOOK HD omits, but you do get expandable storage in the B&N slate, along with SRS sound.
Connectivity includes WiFi b/g/n and Bluetooth, and there's a 4050 mAh battery good, B&N claims, for up to 10.5hrs of reading or 9hrs of video playback (with WiFi turned off). As for pricing, that's competitive too. B&N will be asking $199 for the 8GB NOOK HD and $229 for the 16GB version (£159 and £189 respectively in the UK)
NOOK HD+
The NOOK HD+ steps up a level, delivering a 1920 x 1280 IPS LCD touchscreen that, at 256ppi, comes within spitting distance of the 264ppi new iPad Retina Display. It shares the same processor as the NOOK HD, though running slightly faster at 1.5GHz, along with 1GB of RAM and either 16GB or 32GB of storage (with a microSD card to augment it). There's also WiFi b/g/n, Bluetooth, stereo speakers with SRS sound, and Full HD video output via an HDMI adapter dongle.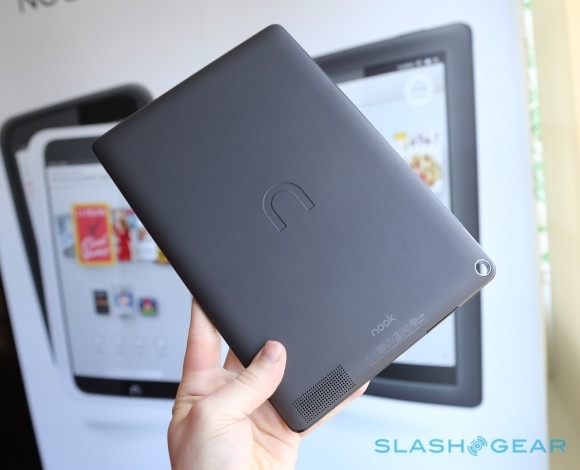 Visually, the HD+'s ID is familiar, with the punched circular hole in the bottom left corner reminiscent of previous NOOK slates. Only one color option will be offered, with the HD+ measuring 240.4 x 162.8 x 11.5 mm and weighing 515g. Its 6,000 mAh battery is good for up to 10hrs of reading or 9hrs of video – with WiFi turned off – B&N says.
In the hand, it's noticeably lighter than the new iPad when the two are compared side-by-side, and the soft-touch plastic is grippy and tactile. The optically-laminated display is beautifully bright and detailed, with icons and graphics looking crisp and text – even at minimal levels of zoom – clear and easy to read. B&N has been working with digital magazine publishers to source higher-quality files for the NOOK Store, so that magazines on the HD and HD+ are both delivered in high-definition, and the payoff is more detailed content.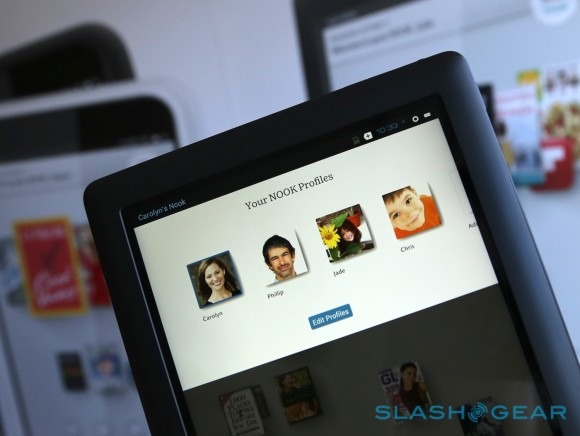 It's not the only software tweaking B&N has been doing. There's now profile support, with the ability to set up different accounts for up to five users on the same tablet. The lockscreen shows all five – you can choose whether to password protect each account or not – and you can quickly switch between profiles from the drop-down in the top left corner.
Each profile can have certain features disabled or enabled, so that for instance you can prevent children from browsing the web or accessing the email app (which supports up to six accounts, including Microsoft Exchange ActiveSync); the NOOK Store can be password protected, and child profiles automatically log into the version filled only with age-appropriate content. Purchased content can be shared between multiple profiles, so that two users can read the same ebook, for instance.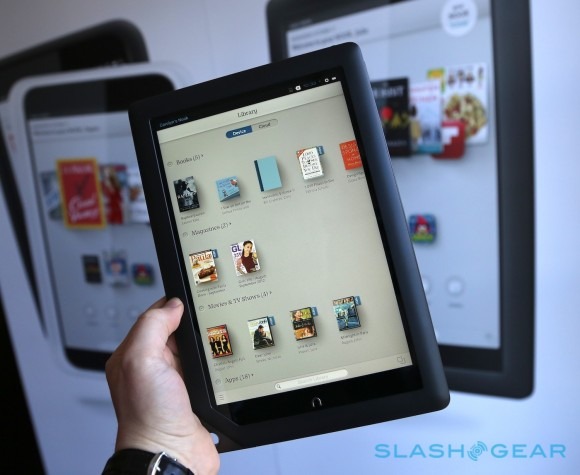 Both new models will have access to the NOOK cloud service for storing ebooks and other content, along with the new NOOK Video store announced yesterday. There will be curated channels of content, too: if, say, you like romance novels, there'll be a channel of hand-picked ebooks by B&N's head bookseller together with, eventually, suitable apps for download. During setup, the NOOK HD and HD+ will ask each new owner what categories interest them, loading a few sample pieces to the homescreen so as to make the slates usable out of the box.
The cloud will also be used for storing clippings. Slide your finger down the left edge of the display and the current screen is "torn off" for clipping, with support for filing each snatched page into a different folder. Copies are saved locally and to the cloud, for accessing on all other NOOK hardware and apps, and there's annotation and highlighting support too. B&N has squeezed in a microphone as well, allowing parents to record a narration of their child's favorite ebook for subsequent playback.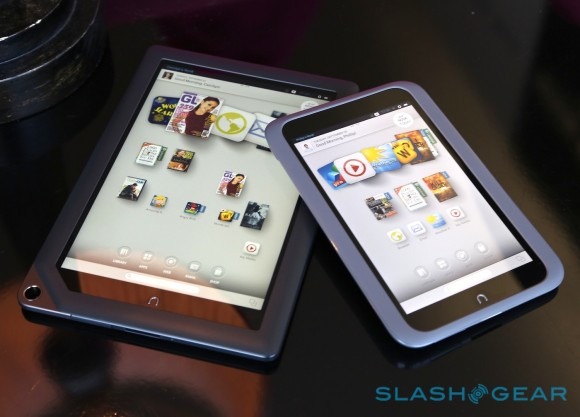 We asked B&N about how open to hacking the new NOOK tablets it might be, given the popularity of the original NOOK Color among Android modders. The answer was somewhat evasive – B&N doesn't see that making up a significant share of the market, and in their untampered form you can't even sideload apps – with no confirmation on what sort of lock-down each NOOK might be subjected to.
Nonetheless, for the mass market the pair make a strong first impression. The 9-inch NOOK HD+ is half the price of the new iPad, and each version has a superb display which looks great both in reading books and playing video. Given the likelihood of a single tablet being shared among multiple family users, the profile support is great – and something which has long been requested for rival tablets.
The B&N NOOK HD and HD+ will go up for preorder in October and should begin shipping in mid-November, as well as appearing on store shelves in time for the holidays. There'll also be a variety of accessories, including cases with Smart Cover-style active front covers that wake the NOOK HD and HD+ when opened up.