B&N NOOK GlowLight Plus makes clever screen tech even bigger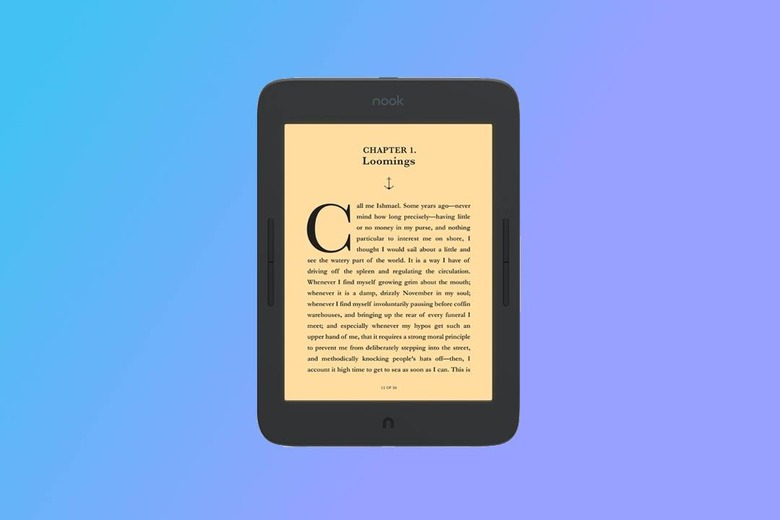 Barnes & Noble has a new ereader for the summer, with the NOOK GlowLight Plus hoping to remind you that Kindle isn't the only deal in down. The new model has B&N's largest E Ink screen in the NOOK series so far, clocking in at 7.8-inches.
That's significantly larger than the 6-inch E Ink screen currently offered on the NOOK GlowLight 3. Like that smaller ereader, the new Plus model has a touchscreen for easier navigation, but B&N also throws in page-turn buttons on both sides of the device.
Like the GlowLight name would suggest, there's screen illumination too. As well as being adjustable for brightness, Barnes & Noble's screen light can also be tweaked for color temperature. That means you can have a cool white tone for daytime reading, then switch to a warmer white at night that, so the theory goes, should be easier on the eyes.
Inside, there's 8GB of storage for ebooks. Battery life is rated in terms of "weeks" on a charge. There'll be WiFi onboard for downloading new titles directly from Barnes & Noble's store.
The body of the ereader gets a soft-touch finish for more comfortable extended reading sessions. There's also waterproofing, making it a suitable poolside or bathtub companion. As you'd expect, you can synchronize your existing or new ebook library with both the NOOK GlowLight Plus and other NOOK ereaders, along with Barnes & Noble's iOS and Android ereader apps.
It's easy to forget that Amazon's Kindle isn't the only game in town for ereader hardware these days. NOOK may not be as instantly associated with the category any more, but Barnes & Noble's chain of brick & mortar stores does give it an edge in terms of visibility. Indeed, in-store customers will be the first to get their hands on the new ereader.
That's because the NOOK GlowLight Plus goes up for sale on Monday, May 27 in-store, but won't arrive on Barnes & Noble's site until the following Wednesday, May 29. It'll be priced at $199.99, though Barnes & Noble Members will get a 10-percent discount. According to the bookseller, the GlowLight Plus is an addition to the ereader range, so we're assuming that it won't replace the existing GlowLight 3, which is currently priced at $119.99.