B&N NOOK event November 7: new NOOK Color expected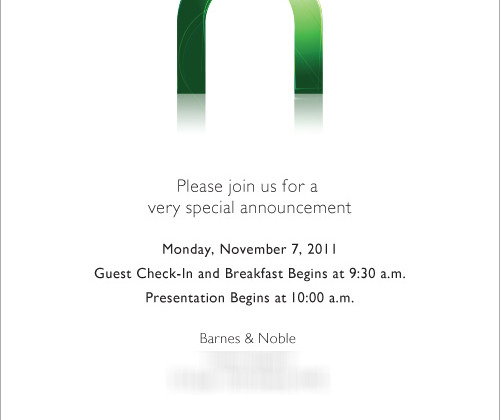 Barnes & Noble has scheduled an event seemingly to launch the company's new NOOK ereader, with the New York City press conference taking place on Monday, November 7. While the invite itself makes no mention of the ereader, the NOOK logo features prominently; leaks last week suggested that B&N would indeed launch the NOOK Color 2 on the 7th, in an attempt to take on the new Kindle Fire.
"Please join us for a very special announcement" is all the hint B&N gives, but with the first-gen NOOK Color now over a year old, we wouldn't be surprised to see the ebook retailer refresh it. Specs are unknown at this stage, but a color touchscreen and Android underpinnings look likely if it's to compete with the Kindle Fire.
However, Barnes & Noble lacks the broad multimedia ecosystem that Amazon can call upon to bolster its new ereader, such as the Amazon Prime streaming TV and movie content. Instead, B&N will have to focus on how it can leverage its ebook catalog as well as build on the popularity of the original NOOK Color with developers.