BMW X7 pickup truck is an epic luxury one-off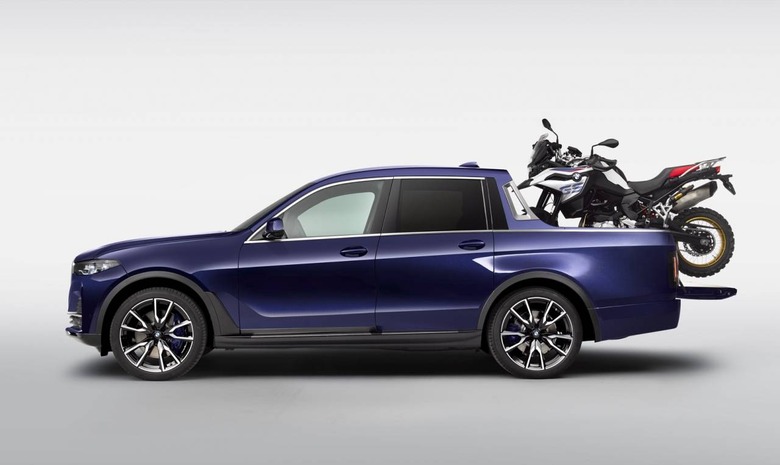 BMW may not have a pickup truck in its line-up, but a group of trainees at the automaker clearly decided that needed to change, with a one-off utility version of the BMW X7 SUV. Revealed in time for BMW's Motorrad Days motorcycle event, the unexpected conversion takes the three-row luxury SUV and replaces the rear with a pickup bed you might feel bad about getting dirty.
From the oversized kidney grille back to the rear doors, it's X7 as usual. After that point, though, things get very different. The team of BMW Group vocational trainees worked with the Concept Vehicle Construction and Model Technology divisions at the automaker's Munich plant, to add about 4-inches in length among other changes.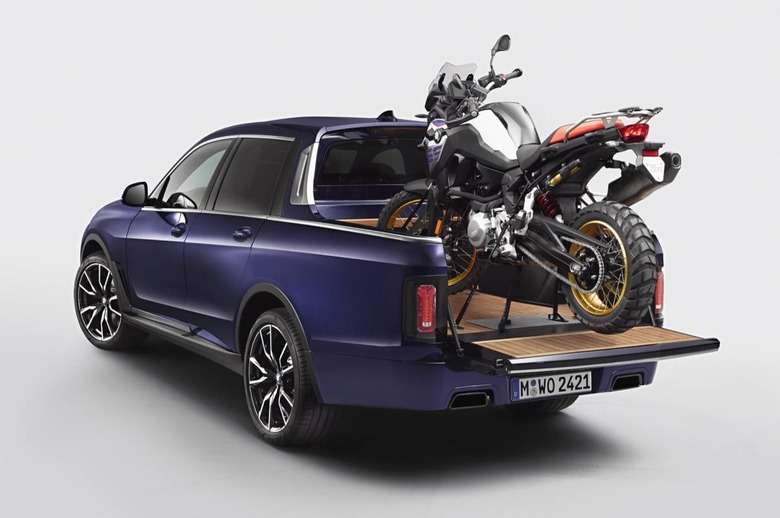 The bed gets handcrafted teakwood cladding, while the new grips and trim steps are made from SLS 3D pressure parts. The honey finish to the wood, along with the Tanzanite Blue metallic paintwork – a color picked from the BMW Individual collection – are meant to give the impression of a sports yacht. Whether you'd actually want to put a BMW F 850 GS touring bike in there, as in BMW's promo pics, and risk scuffs and scratches is questionable.
This is no CAD exercise that only exists in digital files, mind. BMW actually built the X7 pickup, albeit as a one-off, a process that took ten months for the twelve-strong trainee team. The donor vehicle – a test car that would otherwise have been scrapped – uses CFRP (carbon fiber reinforced plastic) for its roof, rear doors, and rear lid. That saves more than 440 pounds over the regular X7, despite the pickup being longer.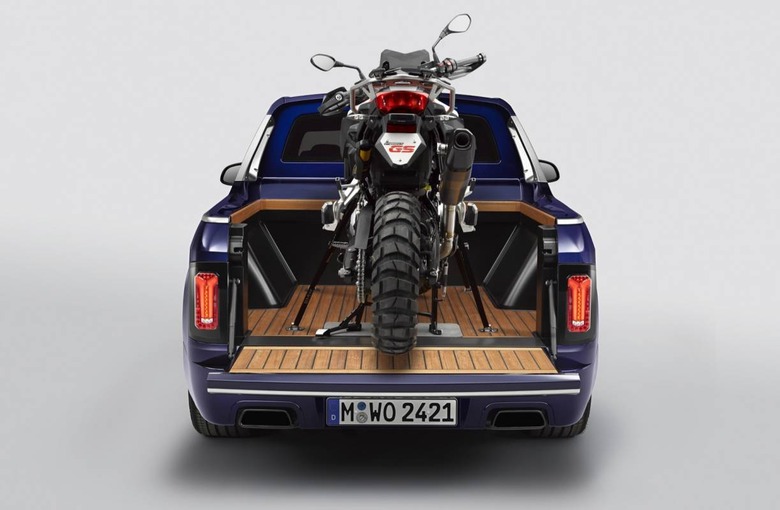 While the big luxury SUV might seem a strange starting point for a utility vehicle, the X7 actually has quite a few things going for it. For a start, it's large: that means plenty of space inside for passengers, even with the third row replaced by the extended bed. It also has a beefy engine and all-wheel drive, with the turbocharged inline-six delivering 340 horsepower and 330 lb-ft of torque.
Standard air-suspension, meanwhile, offers two ride heights. That helps make loading up the rear easier, too, since you can lower the pickup bed.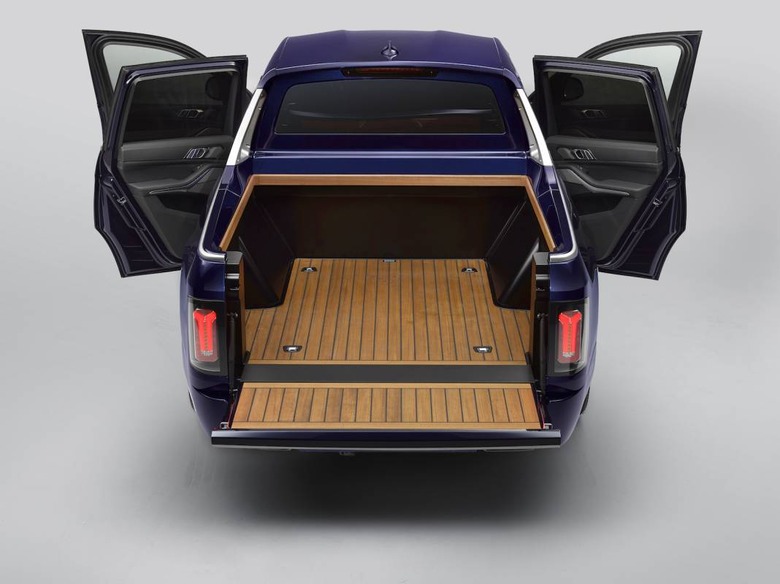 It's not the first unusual pickup truck conversion we've seen recently. Back in June, robot-maker Simone Giertz took matters into her own hands and built the Tesla pickup that Elon Musk keeps promising is on the roadmap.
Unfortunately for anybody hoping for an X7 pickup, BMW has been quick to shut down any rumors of a production version. "Series implementation is not planned," the company said today, dashing our hopes and making this particular truck a very special one-off.