3D printing and scanning is already commonplace in car production, but BMW is experimenting with upgrading its staff with the technology. A new trial at BMW's Munich plant is giving assembly workers individually-tailored thumb guards to help avoid over-stretching, having first scanned the digit with a portable 3D camera.
The custom "orthotic devices" are intended to address a very unique problem encountered by staff on a particular section of the BMW production line. There, rubber plugs are fitted into holes in the cars' chassis, which are previously left open to allow paint to drain, among other things.
Traditionally, it would be a case of stabbing the bungs into place with the thumb, but that can put undue pressure on the hand. What BMW and the Department of Ergonomics at the Technical University of Munich are trialling is whether thermoplastic polyurethane thumb-guards could be the answer.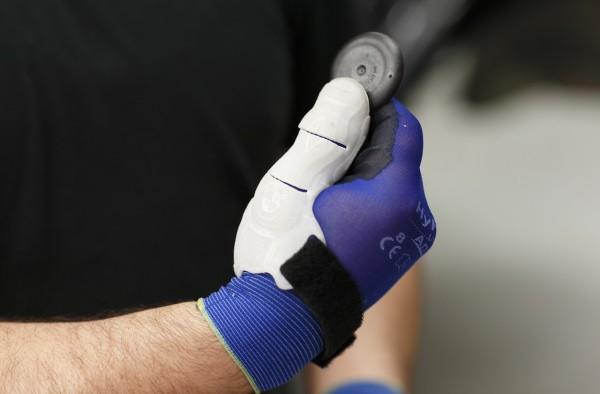 After the thumb is scanned, the finger guard is designed in individual layers that are then fused together by a CO2 laser. Because it's tailored to each person, the fit is perfect: BMW leaves the joints open, so they can move freely, but when the thumb is stretched – like a "thumbs up" gesture – different reinforced elements in the body of the guard align, making for a stable splint.
That splint spreads the pressure through the whole wrist. According to BMW, the feedback from plant staff has been "very positive" and the car company is now looking to see how it could use 3D printing to create other personalized tools for different parts of the production process.
It's not the only interesting use of 3D printing we've seen of late, however. Last month, one firm said it would be 3D printing cars, while a different printer will be headed to the International Space Station later this year to allow astronauts to produce on-demand parts and components rather than wait for resupply missions.