BMW i3 Concept Coupe eyes-on at LA Auto Show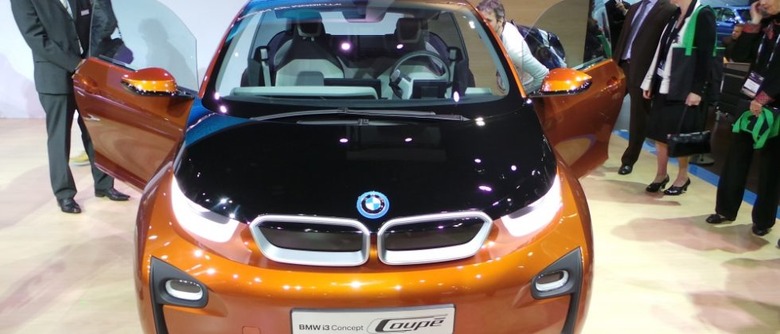 Enter the BMW i3 Coupe – an eco-friendly little tech-friendly amalgamation of excellence inside and out, and one that's essentially just been revealed this week. As we spoke about just yesterday, this machine brings on an inter-car communications system, smartphone connectivity, and of course, a 170HP electric motor slice with lithium-ion batteries inside. It's all topped off by a hardcore lighter yet stronger than steel CFRP (carbon reinforced plastic) passenger cell.
The CFRP brings on enough strength of its own that no B-pillar is required to keep its structure strong, this allowing two rear seats to be much more accessible than in the vast amount of such back-sitting environments in vehicles today. Also inside you'll find wood, wool, leather, and an extended collection of renewable materials to remind you that yes, you are rolling forth in a green-minded machine.
Entering and exiting the vehicle in the front from and to either side is also easier than ever as the area below the dash is empty. With no transmission tunnel-bound protrusions in your way, you can easily slide from side to side. Up top of the dash you'll find two displays, the first being a 6.5-inch screen with information on your speed, power, and the like. The larger display is 8.8 inches and ready to bring on the BMW i ConnectDrive suite, with navigation, infotainment, messages, schedules, and one whole heck of a lot more.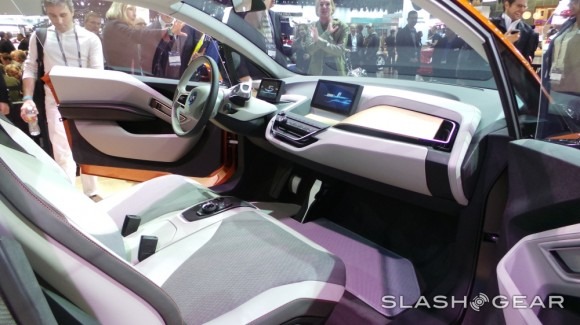 This vehicle does not currently have a release schedule, but as the i8 Spyder was recently revealed to be coming up as soon as 2013, we must assume that this EV isn't that far behind. Have a peek at our BMW tag portal as well as our Car portal to keep track of everything BMW and the larger vehicle world into the future – big things are going down!