BMW has taken the wraps off of its latest eco-friendly car design, the BMW i3 Concept Coupe, with an innovative carbon fiber cabin, clever inter-car communications system, and smartphone connectivity. Debuted at the LA Auto Show this week, the i3 Concept Coupe follows BMW's LifeDrive ethos, packaging a carbon fiber-reinforced plastic (CFRP) passenger cell – lighter than steel, but stronger – on top of a 170HP electric motor slice with li-ion batteries.
The Drive section – shared with the previous BMW i3 Concept – is made primarily of aluminum, again to keep it light and strong, while the modularity of the system would allow BWM greater flexibility in how future EVs are pieced together to target different market segments. For the i3 Concept Coupe, it's a case of a distinctive "layered" sports design, with some of the CFRP left untouched by the custom Solar Orange paint so that its high-gloss grain is visible.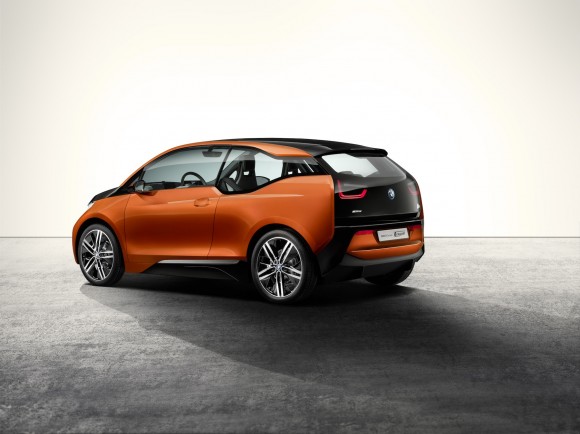 That's not to say the aesthetic is solely intended for visual appeal. The front apron's complex venting creates an "air curtain" which pushes air around the wheel arches, while the rear apron has a diffuser to tweak the rear air flow. CFRP's inherent strength means no B-pillar is required for structural purposes, so the two rear seats are more easily accessed; the scalloped shoulder line also maximizes light in the back. While the 20-inch wheels are on the large side, they're narrow and fitted with low-resistance tires.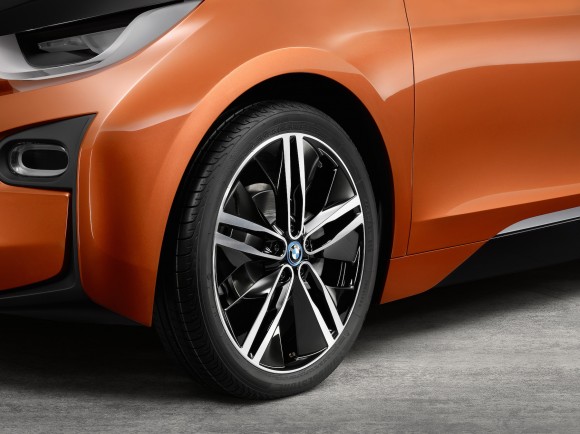 Inside, it's a mixture of leather, wool, wood, and other renewable materials, with an electronic gearshift and twin displays mounted across a swathe of eucalyptus wood (sourced from sustainably managed European forests, naturally). BMW's iDrive system is in the center panel between the front seats, but the space between the dash and where the transmission tunnel would normally be found is left empty. That makes the whole cabin feel more spacious, BMW says, but also allows for easier exiting the car on either side.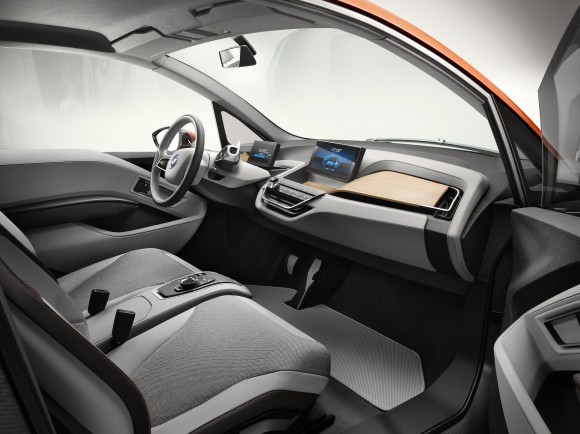 Since it's the future of mobility we're talking about, there's no shortage of technology packed into the i3 Concept Coupe. A 6.5-inch screen above the wheel serves instrument binnacle duties, while a second, 8.8-inch panel in the middle is dedicated to BMW i ConnectedDrive: it can show infotainment, navigation, pull contacts, messages, and schedules from a wirelessly tethered smartphone, mixing that data together so that the system can make suggestions as to where and when to recharge the EV based on where the driver needs to go and the predicted range.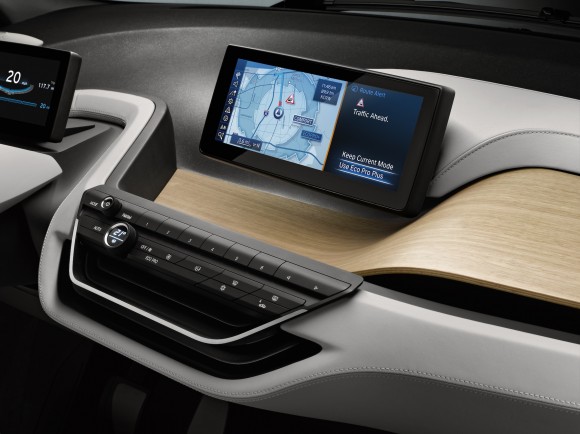 That range can be achieved in one of three modes – Comfort, Eco Pro, and Eco Pro+ – which temper the enthusiasm of the electric motors and how fulsome the HVAC system blows, heats, and cools depending on how much driving you need to squeeze from a full charge. BMW claims Eco Pro achieves up to 20-percent greater range than Comfort, while Eco Pro+ – which also limits top speed to 56mph – extends it even further. A roughly 100 mile range is expected in standard conditions, and the center display can show estimated range in each mode using a set of concentric circles (as in the above shot).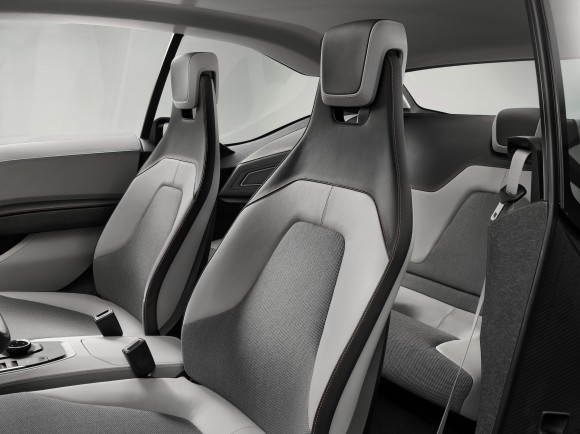 Meanwhile, a dedicated modem means the i ConnectedDrive system can get real-time traffic data from the BMW servers, and can map out the most efficient route or the fastest route to the driver's destination. If a driving mode change is required, it can prompt that too, and remote reservation of charging station is also supported. BMW has created iOS and Android apps which will handle remote control and monitoring of charging, as well as setting navigation details, and how to complete the last stage of a journey on foot or by public transportation.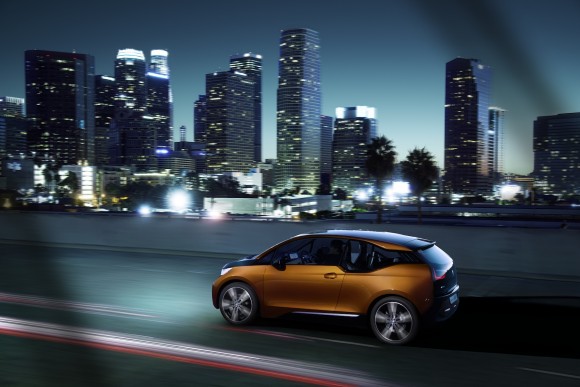 As for when you might be able to park a BMW EV like the i3 Concept Coupe on your drive, the release schedule still is pretty uncertain. "The study presented at the 2012 Los Angeles Auto Show has been brought out in parallel to the ongoing development process for getting the first ever all-electric model from the BMW i brand ready for series production," BMW says of the new concept, "and demonstrates the potential for conceivably extending the model range."