BMW finally unveils its hydrogen fuel cell i8 concept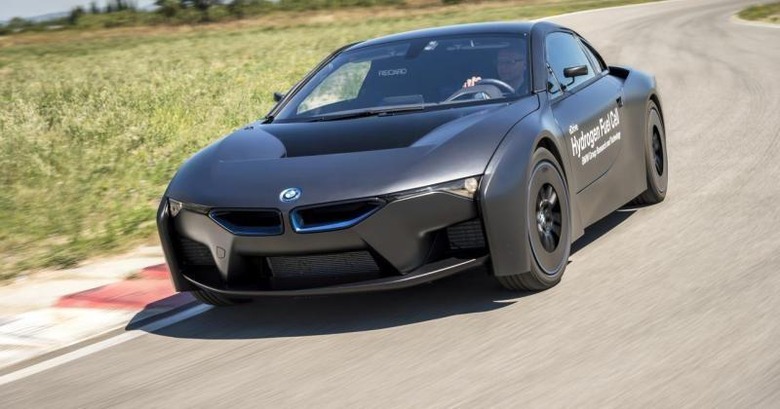 The BMW i8 already looks like a car from the future, but this new version of it might be even more so. Just the other day we saw Toyota boasting about the mileage of its own hydrogen fuel cell Mirai and now BMW has come out with one of its own. Not a commercial model yet, though. This still unnamed research car will be the German car maker's plans for fuel cell powered automobiles. Curiously, Toyota actually plays an important role in those plans as well.
It's not that BMW doesn't have the expertise necessary. In fact, it boasts of about 30 years in researching the use of hydrogen as an alternative source of fuel, 15 if you start from the time it started to focus on an actual fuel cell engine. That length in time, however, also perhaps demonstrates to BMW's slow paced progress.
Toyota, on the other hand, seems to be making strides, enough to confidently put out the first commercially available hydrogen fuel cell EV by October, the 2016 Mirai. For whatever reason only known to those who hold the wheels, BMW and Toyota formed a joint venture in 2013 that would let BMW use Toyota's fuel cell technology as a launching pad for its own research into fuel cell electric vehicles or FCEVs.
In fact, the prototype revealed by BMW is based on the same fuel cells, housing, and ancillary systems as the Toyota Mirai, although it also based on BMW's 5 Series GT. The electric boasts of 245 hp of power and a range of more than 300 miles. Coincidentally, that's the same feat that Toyota just boasted about. The hydrogen is stored in a tunnel tank between the front and rear axle.
In terms of design, the unnamed research vehicle takes after the BMW i8 coupe, particular the two-door plug-in hybrid that was unveiled just last March, bearing that new angular kidney grille, simpler exterior, and a carbon fiber build. Unlike Toyota, BMW isn't in a rush to mass produce FCEVs and is bidding its time until 2020 to get everything perfect.
VIA: Auto Blog
SOURCE: BMW