2016 Mirai sets a 312 mile record for zero-emission cars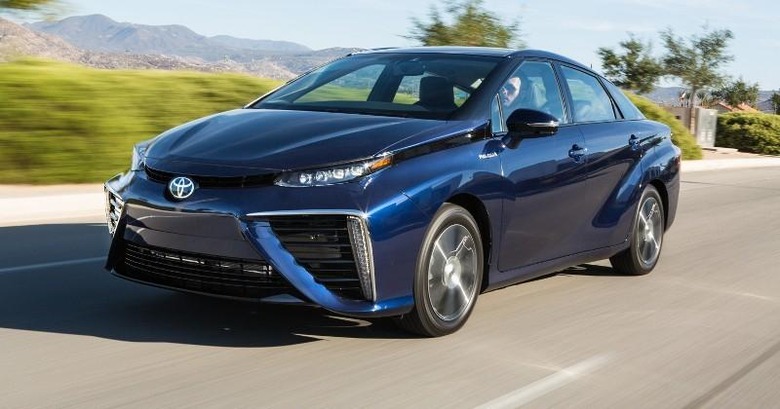 The Toyota Mirai is really setting records, at least according to the car maker. Toyota just proudly announced that the 2016 Mirai has achieved the equivalent of 67 miles per gallon on city/highway/combined roads and a range of 312 miles, both based on EPA estimates. That might not sound so noteworthy at first, until you take into account the fact that the Mirai is a hydrogen fuel cell electric vehicle. Thus, Toyota is claiming that it is the first of any zero emission vehicle to hit, and even exceed, that 300 mile mark.
Let's count the "firsts" that the Toyota Mirai has hit. It is the first mass-produced hydrogen fuel cell EV. This makes it a completely environment-friendly car, powered by nothing more than hydrogen, oxygen, and a fuel cell. It also emits nothing but water vapor instead of harmful gases.
Despite that fact, the Mirai became the first fuel cell powered car to become an official NASCAR pace car, another first for this EV. Granted, you don't really need much power or performance to fulfill those duties, but it does mean that the Mirai underwent rigorous testing to earn that distinction.
Be sure to read our First Drive experience to see what the 2016 Toyota Mirai truly has to offer.
And now, it is claimed to have the longest range of any zero emission EV. That will certainly help considering there might not be too many hydrogen stations available for it, all of them located in California, where the car is to launch initially.
Starting October, the 2016 Toyota Mirai will sell from a total of 8 dealerships in the state only, four in Northern California and four in the south. This limitation is dictated by the infrastructure available for maintaining the car as well as human resources educated in its support and upkeep. Toyota is throwing in a few offers to sweeten the pot, like three years worth, or $15,000 maximum, of complimentary fuel and an 8-year or 100,000 mile warranty on key fuel cell parts.