BlueAnt Embrace iPad Headphones Get Official

Back in January 2011, we were running around like mad trying to grab all the sweet hands-on action we knew you'd like with all the electronics under the sun at CES 2011. One of the devices we were relatively impressed with at the time was a set of sound blasters that at the time had no identification other than "BlueAnt Stereo Over-The-Ear Headphones." Turns out these lovely music deliverers have gotten a full overhaul and are now known as BlueAnt Embrace Headphones. Have a look at what these iPhone, iPod, iDevice specific headphones have to offer today!
This set of headphones offers what they're calling "True-to-Life Sound" which BlueAnt notes is not artificially manipulated. While you are able to adjust EQ setting to match your own personal preferences, you're getting as simple a transfer as you're going to get from a pair of over-the-ears. You've got sealed-leather pads to keep the noise out that you down want to hear while your sweet iDevice transferred music is kept in. You've got 40mm custom tuned high performance drivers for a full range of sound and precision manufactured earpads to keep that sound as comfortable for your head as possible.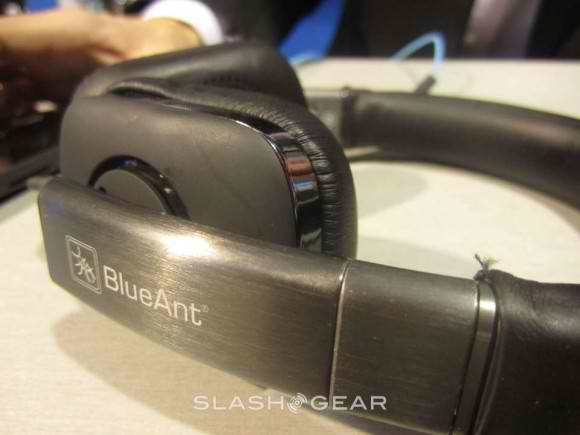 BlueAnt Headphones as they appeared earlier this year at CES 2011
You'll notice that the design of the headphones has changed ever so slightly, with a new brand placement, a simplified look and a whole new box to keep them in. Luxury finish on both the metal and the supple leather will keep you in smooth fashion the whole album through.
You'll get a frequency range between 20 Hz and 20 kHz, sensitivity at 103 dB, and impedance at 24 Ω. Your max power is at 15mW, drive diameter at 40mm, and the box contains both a cable with Apple remote and an OMTP adapter. Straight through cable, a cool folding design, and an included carry case will keep you satisfied well beyond the 1-year warrantee. You can pick these smooth mothers up at your local music shop or straight from BlueAnt for $199.99 – high class! Go grab em!