Blood Type Racing Veloster Turbo heads to SEMA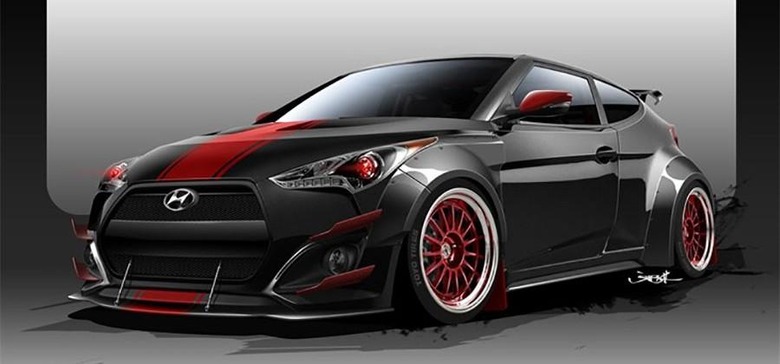 Hyundai is teasing us with another seriously cool looking SEMA show car, this time from Blood Type Racing. So far, Hyundai and its partners have teased us with the ARK Performance Solus Genesis coupe and the Tucson Brute Ute packing 700hp. The BTR Veloster will be unveiled officially at the SEMA press conference for Hyundai on November 3.
The car gets a Carbon Black paint job, red racing stripe and a wide body kit. The front of the car has aero canards fitted and the car has a rear spoiler. The wheels are custom SSR three-piece units. Power is from the Hyundai 1.6L Gamma four cylinder with BTR sleeves, a high-boost turbo from Garrett and custom connecting rods and pistons to survive the boost.
The OEM ECU was massaged to allow the engine to make more power and with all those go fast parts the engine is able to produce over 500hp while keeping OEM drivability according to the builders. The interior of the car was customized as well.
It has a four point roll cage, Sabelt bucket seats, harnesses, and steering wheel. The audio system is Rockford Fosgate and the car has Tanabe OLED Revel gauges inside. There is no word on the suspension upgrades for the car.