BlackBerry Z30 smartphone offers five-inch screen and BlackBerry 10.2 OS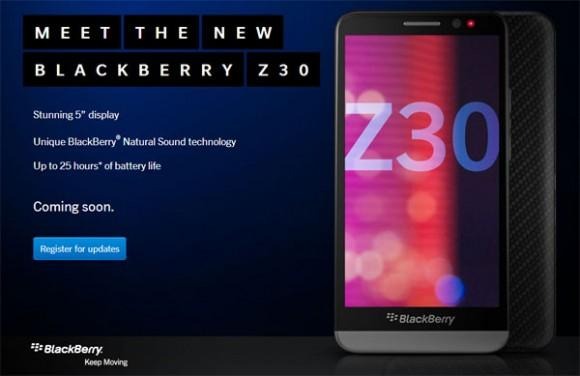 Poor BlackBerry has gone from being one of the most popular smartphone makers on the market to one of the least popular in relatively short order. BlackBerry has announced another new smartphone that it is hoping will help turn its fortunes around. The new smartphone is called the BlackBerry Z30.
BlackBerry says that the new smartphone is the biggest, fastest, and most advanced it's ever offered. The device brings with it a new version of BlackBerry OS called BlackBerry 10.2. The smartphone also features a five-inch Super AMOLED display.
The Z30 smartphone has a 1.7 GHz processor paired with a quad core graphics processor promising faster web browsing and more detail games. The smartphone also features BlackBerry Priority Hub giving users one place to manage all conversations and notifications. As you would expect of any BlackBerry smartphone, BBM is tightly integrated and you can now preview messages that come in no matter what app you are using.
The smartphone also offers stereo audio and BlackBerry Natural Sound. Natural Sound is part of the new 10.2 operating system and promises to make BBM Voice and BBM Video chats sound more natural and realistic. The Z30 also integrates new generation antenna technology promising significantly increased reception for better connectivity in areas with poor signal strength and fewer dropped calls. The smartphone has a 2880 mAh internal battery, which is the largest ever fitted into a BlackBerry smartphone. The manufacturer promises the battery is good for 25 hours of mixed-use per charge.
BlackBerry says the Z30 will launch on select carriers and at select retailers globally beginning next week in the UK and Middle East. The phone will come to all other regions going into the holiday season. Pricing and availability will be announced by launch partners closer to the respective launches in each area. BlackBerry also plans to have version 10.2 of its operating system available for the Z10, Q10, and Q5 by the middle of October. We got a glimpse at the Z30 last moth when a pic of it leaked in a comparison photo.
SOURCE: BlackBerry