BlackBerry steady as Android and iOS slide in mobile web usage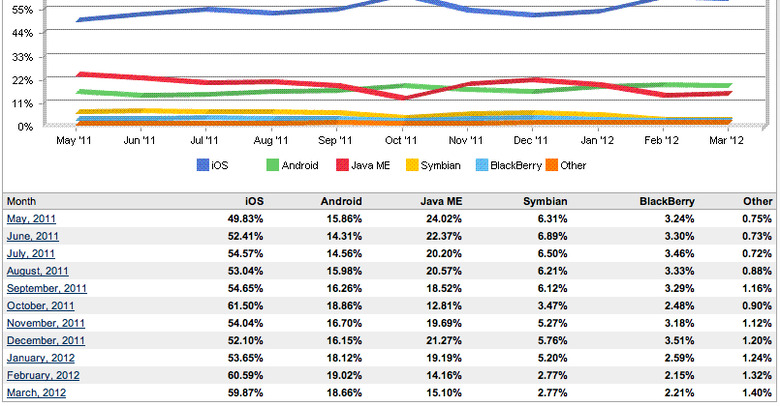 I bet you never thought you'd read that headline again, did you? As it turns out, the following bit of analytics does not show the popularity of the operating systems here, only the relative amount of web-browser web use they've got going for them. What you're going to see instead of Apple and Google falling down is both mobile operating systems showing their web browsers as a steadily common way to actually access web content. It should go without saying that BlackBerry is going to be doing fairly well in comparison with any other OS then, as 3rd party apps aren't exactly RIM's strong suit.
The chart you're seeing comes from NetMarketShare where they've got Apple's iOS still in the undeniably most gigantic lead at 59.87% – surprisingly though, they've done a whole lot batter, having 61.50% of the market back in October of 2011. Next you'll find Android and Java ME neck and neck with the former down a little less than one point from last month and the latter up one point.
Then there's BlackBerry sitting down there in the dust – in reality BlackBerry is still at a near-dead 2.21% of the market, up not even a point from last month and down a full point from last year in May. We've seen several publications running this story with similar titles to ours – this is a PSA: don't trust the headline alone!
For those of you wanting to ride out the BlackBerry wave with several reality checks, hit up the timeline below: there you'll find the true RIM as it stands today.