BlackBerry squeezed out of Enterprise say stats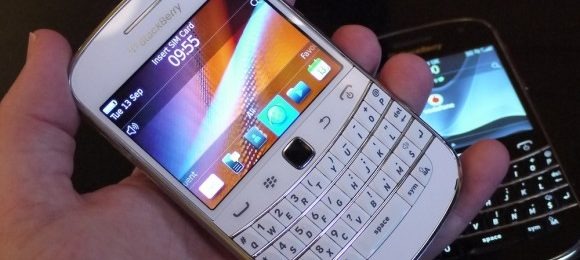 RIM's new CEO faces a dual-challenge, Apple in North America and the ascendence of Samsung in Europe, according new research, though BlackBerry is a surprise hold-out in the UK. "Android and Apple together are eating BlackBerry's lunch" Forrester Research analyst Frank Gillett said of the smartphone pincer-movement, the NYTimes reports, with global stats indicating 27-percent of smartphone users have an Android device and 24-percent an iPhone. BlackBerry slots in-between, at 26-percent, but enterprise users are progressively looking elsewhere from previous business darlings RIM.
Nonetheless, RIM is keeping a hold on sales in the UK. Recent stats released by GfK, mocoNews reports, suggest that BlackBerry handsets averaged 27.7-percent of all sales in 2011, and 26.3-percent in December specifically. That's lower than in 2010, but still solid; a likely cause is low-priced contracts with bundled messaging through BBM, making the smartphones particularly appealing to the youth market.
The sales reports aren't uniform across the board, however. Although Kantar Worldpanel ComTech found strong demand for BlackBerry among youth buyers, it also suggested pre-holiday sales were disappointing, and that Android was the biggest winner in the mobile market. RIM claims it has 8.5m subscribers in the UK, out of 75m worldwide, with that figure supposedly growing by 35-percent in December 2011.
IDC stats in Western Europe indicate Android is increasingly on the radar for enterprise customers, however, perhaps RIM's biggest market segment. CIOs surveyed by IDC reported that, while in most cases they were not formally supporting Android devices, all had plans to do so in the next 18 months.
It's arguable whether new RIM CEO Thorsten Heins' plan to keep pushing ahead with the tightly-integrated BlackBerry ecosystem will survive the Apple and Android onslaught. Heins was criticized for apparently ignoring what the market saw as RIM's key problems, something the new chief exec later denied. "What I was trying to address was that there was some suggestion that RIM should be split up or should even be sold" he said.
Nonetheless, there remain concerns that RIM promoted from within rather than looking outside its own doors for some fresh blood, something former co-CEO and company founder Mike Lazaridis denies. "Bringing someone in from the outside would have been a guess," Lazaridis told The Record. "That would have been like going back four years and saying, 'Well, we think he is a star but now he has to prove himself.' He has proven himself."
RIM is expected to preview its BlackBerry 10 range at Mobile World Congress in late February, though the smartphones themselves won't go on sale until near the end of 2012.