BlackBerry Slider 9800 with OS 6 leaks?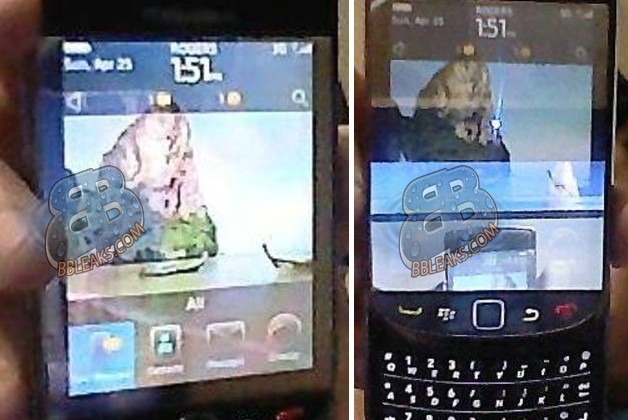 RIM's mysterious BlackBerry slider has surfaced again, and this time it's apparently running BlackBerry OS 6.  Images of the phone sent to BBLeaks show what's believed to be an early version of the new platform – itself expected to arrive in Q3 2010 – as well as our first glimpse of the phone powered on and even a rumored name: the BlackBerry Slider 9800.
Previous rumors have tipped the BlackBerry slider as going by the codenames "T" or Talladega, and having both a touchscreen, an optical trackpad and a slide-out QWERTY keyboard for navigation and text input.  The version of BlackBerry OS 6 this leaked prototype is running lacks some of the UI features we're familiar with from the official demo video below, such as Favorites and Folder List buttons; that could, BBLeaks speculate, mean that the slider doesn't, in fact, have a touchscreen, but it's more likely to be down to the early nature of the test ROM.
No word on when the handset might be released, though we're told the smartphone has a 320 x 480 resolution display together with UMTS/HSPA and WiFi 802.11n connectivity.  According to BBLeaks, OS 6 will debut on this handset, as the BlackBerry Slider 9800.
BlackBerry OS 6 video demo: