BlackBerry pushes BBM with Android preloads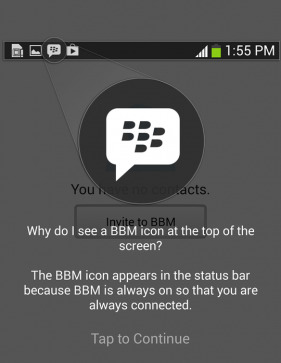 Google might prefer Android users to stick with Hangouts for their instant messaging, but BlackBerry has inked a deal to preload BBM on a number of handsets running the OS in mulitple regions. The agreement – which will affect select Android phones offered in Africa, India, Indonesia, Latin America, and the Middle East – won't force new owners to register for a BBM account, but it will put the app right in front of them, as BlackBerry tries to push its cross-platform service out from under the shadow of BlackBerry 10.
The list of OEMs is probably unfamiliar to anybody in North America or Europe, however. At the moment, it includes Be, Brightstar, Celkon, EVERCOSS, IMO, Micromax, Mito, Snexian, Spice, TECNO, TiPhone, and Zen, though BBM will still be available to everyone in the Google Play store.
BlackBerry hasn't announced any newer usage figures than the initial 10 million downloads in the first 24 hours of availability across both iOS and Android. However, the company has since said that it is "pleased" with subsequent growth, even if it won't detail specifics.
When we spoke to head of BBM Andrew Bocking earlier this month, he described the IM app team's primary goal to be growth, positioning itself as more of a social network than a simple messaging tool. While obviously associated with BlackBerry OS, Bocking told us that the three different platforms BBM currently supports are being treated "completely and equally" when it comes to feature-parity, and that BlackBerry 10 won't be prioritized for new functionality.
However, Bocking pointed out, that stance doesn't preclude taking advantage of what each individual platform supports that its rivals different, such as widgets on Android homescreens.
As for whether BlackBerry's enthusiastic – and indiscriminate – embracing of Android and iOS has caused upset among the company's loyal users, Bocking admitted that some of the early feedback had been indignant. Since launch, though, the exec says there has been broad support, with BlackBerry 10 users seeing the unification as necessary if the OS (and the company) is to survive moving forward.
Whether other OEMs and carriers will follow the same preload path remains to be seen, and it's not clear what the terms of the promotional deal were to get BBM installed from the outset.