BlackBerry Porsche Design P'9981 Review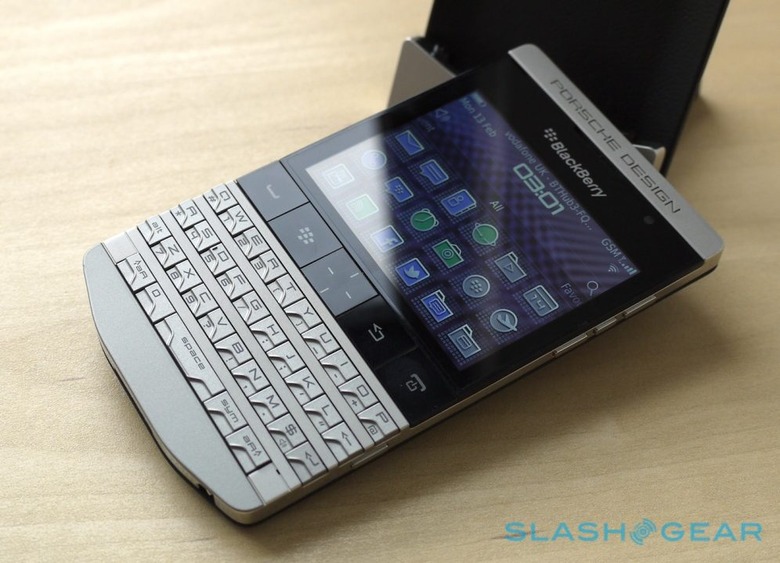 At first glance, Porsche Design and BlackBerry might not make obvious bed-fellows. Still, the car firm's aesthetically-obsessed arm has taken up with Canada's finest, and the Porsche Design P'9981 is the result: maple syrup by way of Stuttgart. The less forgiving might draw comparisons between Porsche's legendary reluctance to diverge from its original 1963 car design, and BlackBerry's struggle to break free of its old OS. The frugal will likely be too busy gaping at the $2,350 price tag. So, Porsche or Pinto? Check out the full SlashGear review after the cut.
Hardware
Porsche Design starts as it means to go on, with an oversized box first presenting the P'9981 and its desk-stand in one dense foam layer, before revealing different chargers for near-global use, USB cable and headphones, various documentation and your exclusive technical support card, complete with PIN, to access freephone assistance. It's not quite Vertu's Concierge, mind; the team will help you set up your P'9981 and figure out its quirks, but not book you theater tickets.
The smartphone itself is certainly distinctive. RIM basically handed over the key parts of its Bold 9900 flagship, and Porsche Design dressed them up in a Dynasty-era suit, shoulderpads and all. It's a resolutely aggressive, blunt design, all sharp edges and squared-off corners, with plenty of metal and metal-effect plastic, and it's heavy too, feeling twice its actual 155g weight in the hand.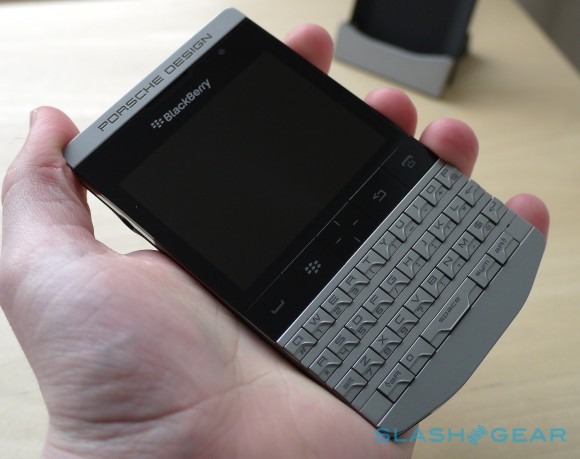 Porsche Design itself gets top billing, its name engraved into the brushed stainless-steel bar above the display; RIM's BlackBerry logo is relegated to just below the earpiece, above the 2.8-inch 640 x 480 touchscreen. The display is bright and crisp, though lacks the color saturation of an AMOLED, while the touch response is good. The metal bar continues around the edge of the P'9981 – though with a polished mirror finish, rather than brushed – though the keyboard itself is plastic.
Porsche Design P'9981 hands-on:
[vms 7eb820766939a658022c]
BlackBerry devices are famed for their keyboards, in fact you could construct a reasonable argument that it's QWERTY text-entry that has kept the company afloat the past few years. Porsche Design does away with the 9900's 'board – one, we decided, of the best on the market – and replaces it with a heavily-stylized version with pronounced ridges. It's not a bad keyboard – the spacing is good, as it spreads across the entire 67mm width of the phone, and the keys are clicky and responsive – but it's definitely a step back from what the donor BlackBerry offers.
It's also unevenly illuminated, with the backlighting focused in two patches that leave the center column of letters dimmer than the rest. No great functional issue, and you can still see them in low-light conditions, but it's a noticeable flaw and one – since the backlighting is often active when the P'9981 is docked in its charger-cradle – you're presented with all the time.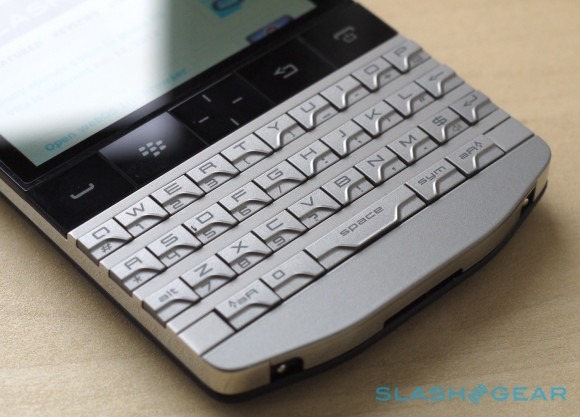 Sandwiched in-between the keyboard and the touchscreen is the usual row of call, menu and navigation buttons. They're large and plasticky, and rock somewhat unnervingly under your finger. In their midst is the optical trackpad, which doubles as a select button, and is swiftly responsive. The left edge of the phone offers the 3.5mm headphones socket and a microUSB port, while the right has volume keys flanking a mute button (that doubles as a play/pause button in the media app) and a camera shortcut (that can be reprogrammed). On the top there's a lock button.
If the front of the P'9981 is Terminator sturdy, the back is oddly unreassuring. An ingot of metal bears the 5-megapixel camera – which supports 720p but uses EDoF fixed-focus rather than auto-focus – and single LED flash, but the rest is a plastic panel that, despite being covered with leather, feels unduly cheap in comparison to the rest of the phone. There's a little flex around the camera section, and the panel itself doesn't click reassuringly into place as we might've hoped.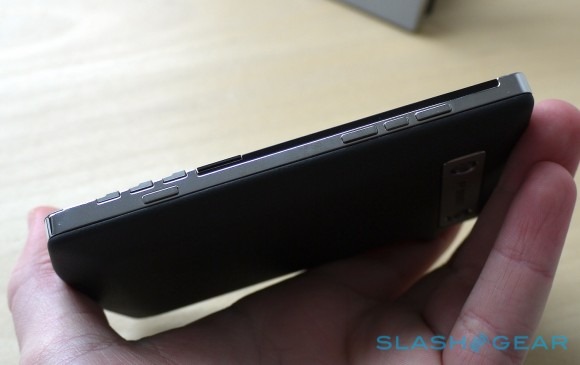 Peel it off, and you can see the antenna stuck to the back – connected with two discrete pins just above the Porsche Design branded 1,230 mAh battery – as well as the microSD card slot to augment the 8GB of internal memory. You'll need to pull out the battery to swap the SIM card. This European unit has dualband 3G/UMTS (for up to 14.4 Mbps downloads and up to 5.76 Mbps uploads, network depending), quadband GSM/EDGE, WiFI a/b/g/n (with 2.4/5GHz support), Bluetooth and NFC, along with GPS, a digital compass, accelerometer and twin microphones for noise cancellation. Like the Bold 9900, the Porsche Design P'9981 runs BlackBerry 7 on a single-core Qualcomm MSM8655 1.2GHz processor, paired with 768MB of RAM.
Software
RIM has hung its long-term hopes on BlackBerry 10, the QNX-based OS for phones and tablets expected to debut by the end of this year. Unfortunately, that leaves the P'9981 running BlackBerry 7, just as on the Bold 9900, and it's a platform that's seriously showing its age compared to iOS and Android.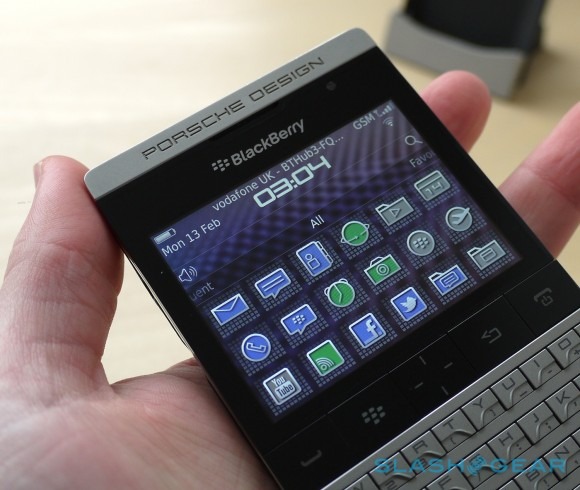 Porsche Design, as the name might predict, makes no modifications to the software itself beyond an ill-advised icon redesign. The paired down iconography is certainly in keeping with the rest of the P'9981, but it also leaves app menus confusing: you have to make a conscious effort to tell the difference between each icon. It's something you'll no doubt get more adroit at handling, the longer you live with the handset, or indeed you can change the skin altogether.
Beyond that, our primary frustration with BlackBerry 7 is its general sense of being a patchwork platform: some aspects feel relatively fresh, but other areas feel like they've been dragged over from RIM's OS several years back. The text-based elements of the UI are generally the swiftest but also the points that feel most dated in comparison to rival software; in contrast, BlackBerry App World is sluggish and the BlackBerry Maps app is a lesson in frustration compared to Google Maps or Nokia Maps.
RIM has worked hard on the internet experience in BlackBerry 7, and it's certainly improved from earlier iterations. You still get a throwback mouse cursor, though we came to appreciate it more after finding how much finger-navigation obscures the touchscreen. Pinch-zooming in the browser works, but that compact display also makes it feel clumsy.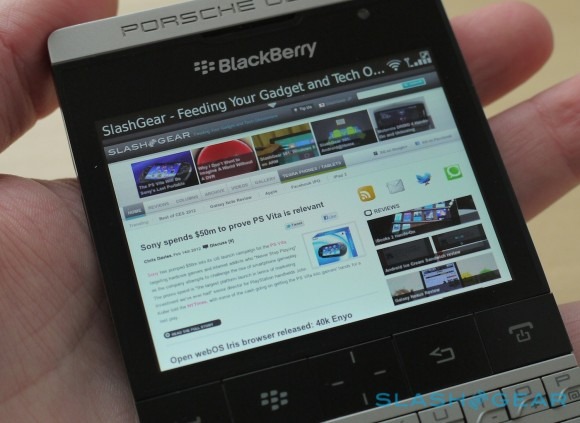 As always, the email experience is the primary reason for using a BlackBerry, though it's at its best if you're an enterprise customer with a BlackBerry Exchange Server. If you're on the Gmail train then you'll have to use IMAP – Google discontinued its Gmail for BlackBerry app late last year – though there's the Enhanced Google Mail Plug-in from RIM itself that adds spam and archive support, integrates Gmail inbox searches with BlackBerry 7's universal search, and imports your contacts. Still, the best Gmail experience continues to be on Android in our opinion, with iOS following behind that.
We've covered BlackBerry 7 more in our Bold 9900 review, but the long and short of it is that the OS feels dated and is well overdue a replacement. BlackBerry 10 can't come soon enough.
Camera
5-megapixels is midrange but acceptable for a smartphone, particularly one with business aspirations like the P'9981, but the fixed-focus is a disappointment. Not a surprising one – the Bold 9900 used EDoF after all – but still another black mark against the Porsche phone.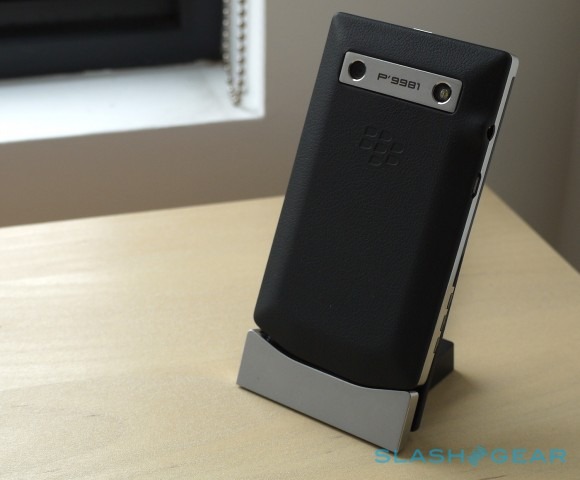 It means you're limited in how close you can get with your macro shots, and in general images lack crispness in comparison to auto-focus cameras. Color balance is solid, and there's a nice amount of detail in shots from the P'9981, but unlike, say, the iPhone 4S or Galaxy S II, you wouldn't want to rely on the BlackBerry for all of your photography needs.
As for video, 720p is your high-definition maximum but the ensuing clips are good. Colors are accurate, if a little muted, and the digital image stabilization is neither ineffectual nor over-aggressive and helps smooth out a shaky hand. We found the sheer heft of the P'9981 also helped on that front too. Recorded clips can be sent via Bluetooth or WhatsApp, or uploaded to YouTube, though not emailed directly from the camcorder app.
Porsche Design P'9981 720p HD Video Sample:
Phone and Battery
Just behind email performance in the Big BlackBerry Book of Achievements is traditionally voice call quality and battery life: on this, the P'9981 drops one of the balls. Calling quality is great, with a loud earpiece and speaker for hands-free use, crisp – but not overly-processed – background noise reduction, and tenacious grip on a mobile signal. We also like how both your mobile network and current WiFi SSID are shown in the status bar.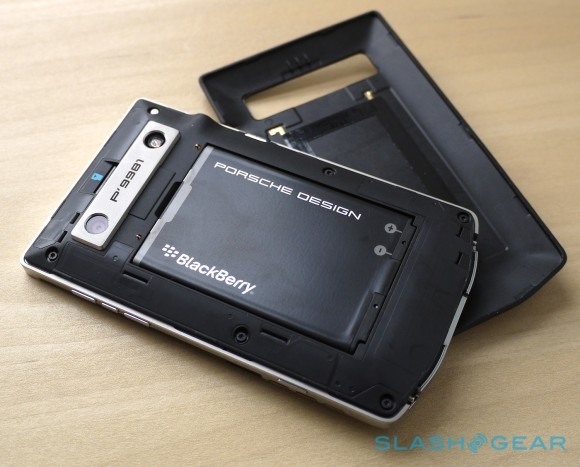 Unfortunately, whereas at one time BlackBerry devices could be expected to run for days, the P'9981 follows in the Bold 9900's metaphorical footsteps and tarnishes the family tradition. The 1,230 mAh battery may be Porsche Design branded but it's otherwise exactly the same powerpack as the 9900 uses, and it's simply not up to the challenge of the 1.2GHz processor.
RIM does its best to hide that fact, underclocking the chip most of the time so that you're running on a fraction of those cycles, but step beyond simple email and you'll find calls, web browsing, photography and third-party apps all take their toll. Left to its own devices and the P'9981 will run for a couple of days, even with email updating in the background, but actually use it as you might a rival smartphone and you'll struggle to finish a day. The desk charger cradle does at least make topping up the juice more straightforward.
Wrap-Up
It's hard to imagine the Porsche Design P'9981 convincing the everyman: its severe styling is too divisive, BlackBerry 7 OS questionable, and general specifications uncompetitive in places. Then again, the everyman isn't the limited edition BlackBerry's target audience. Like Vertu and "luxury" editions of other manufacturers' phones, the appeal of the P'9981 is more about who hasn't got it than who wants it.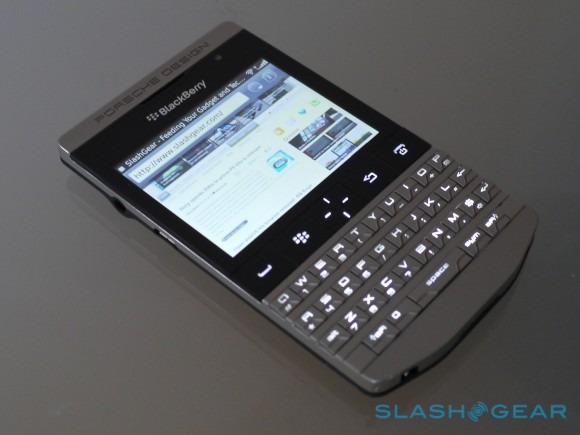 $2,350 is a ridiculous amount of money for a smartphone. A quarter of that gets you an iPhone 4S or a Galaxy Nexus, either of which outclass the P'9981 on functionality, usability and – many would argue – style. However, just as Porsche Design borrowed the Dynasty shoulderpads, the P'9981 is the cellular equivalent of Alexis Carrington: brash and unforgivingly blunt, an unapologetic backhanded slap to the face of anybody who thinks their mainstream handset makes them special.
The rest of us will continue to buy iPhones, and Android phones, perhaps even some Windows Phones, and wait to see whether RIM can relaunch itself in Q4 with BlackBerry 10. The biggest problem with the P'9981 isn't its love-it-or-hate-it design, or its mediocre camera, or even its insane price tag: it's the fact that it highlights just how tired BlackBerry 7 is. In the end, even $2,350-worth of metal and leather and Porsche branding can't hide that.