BlackBerry PlayBook takes on iPad: Full Specs & Details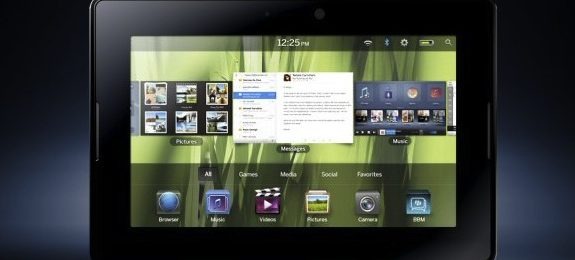 RIM obviously knew they'd need some serious hardware to take on the iPad, and so they didn't hold back with the BlackBerry PlayBook.  We've got the full specs now, and this 7-inch 1024 x 600 multitouch slate is a pocket powerhouse that challenges not only Apple's tablet but the Samsung Galaxy Tab, too.  An ARM Cortex A9 dual-core 1GHz processor gets things going, then there's 1GB of RAM, WiFi a/b/g/n, Bluetooth 2.1+EDR, microHDMI and – in the future – the promise of both 3G and 4G models.
The PlayBook also blows both the Galaxy Tab and the iPad out of the water when it comes to optics, with a 5-megapixel on the back and a 3-megapixel on the front.  Considering Apple are yet to give the iPad any cameras whatsoever, that's a significant step up for this new BlackBerry rival.  If you're not keen on recording content then consuming it should be just as straightforward, with 1080p HD H.264, MPEG, DivX and WMV supported.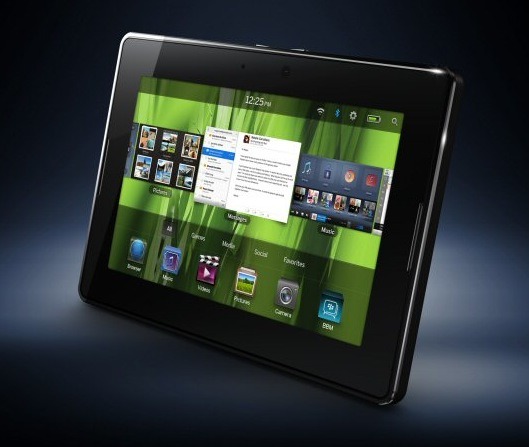 The PlayBook may have an enterprise focus – in fact it's described as being "the first professional tablet" – but RIM obviously realised it would be a shame to waste that potent CPU on just spreadsheets and email.  Instead there are some serious gaming credentials, with POSIX and OpenGL support.
Of course, hardware only gets you out of the gate: it's software that scores you sales success.  RIM's approach with the PlayBook is a bit of a dark horse right now; they're using the QNX developed platform, which so far looks quite a bit like webOS.  If they can pull in developers and convince the enterprise market that what their workers need is a 7-inch tablet, however, they could be on to a real winner once the BlackBerry PlayBook lands in early 2011.
Specs:
7" LCD, 1024 x 600, WSVGA, capacitive touch screen with full multi-touch and gesture support
BlackBerry Tablet OS with support for symmetric multiprocessing
1 GHz dual-core processor
1 GB RAM
Dual HD cameras (3 MP front facing, 5 MP rear facing), supports 1080p HD video recording
Video playback: 1080p HD Video, H.264, MPEG, DivX, WMV
Audio playback: MP3, AAC, WMA
HDMI video output
Wi-Fi – 802.11 a/b/g/n
Bluetooth 2.1 + EDR
Connectors: microHDMI, microUSB, charging contacts
Open, flexible application platform with support for WebKit/HTML-5, Adobe Flash Player 10.1, Adobe Mobile AIR, Adobe Reader, POSIX, OpenGL, Java
Ultra thin and portable:
Measures 5.1"x7.6"x0.4" (130mm x 193mm x 10mm)
Weighs less than a pound (approximately 0.9 lb or 400g)
Additional features and specifications of the BlackBerry PlayBook will be shared on or before the date this product is launched in retail outlets.
RIM intends to also offer 3G and 4G models in the future.