BlackBerry PlayBook QWERTY keyboard and charging dock accessories look likely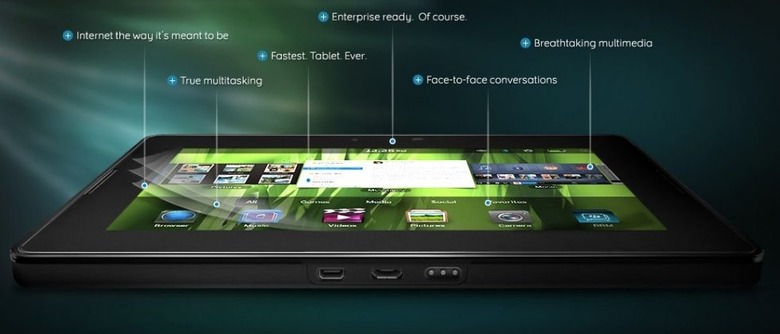 For a company that's built its reputation on hardware keyboards, RIM's decision not to give the BlackBerry PlayBook anything but an on-screen QWERTY could be seen as an unusual one.  Still, there's plenty of scope for accessories; the press release may be light on details, but we can draw a few conclusions from what RIM has said.  For instance, as well as the microHDMI and microUSB, there are battery charging contacts on the PlayBook tablet.
That certainly implies some sort of docking cradle which would allow for hot-grabbing of the BlackBerry PlayBook when you're headed out of the office.  In fact all three of the ports are in a compact row on the bottom edge of the slate, perfectly placed for various docks such as an HDMI media dock – to take advantage of the 1080p HD support – and even, perhaps, a BlackBerry PlayBook keyboard dock to turn the tablet into a netbook replacement of sorts.
What also remains to be seen is how functional the BES integration is for non-BlackBerry smartphone users.  The company is making much of the BlackBerry PlayBook tablet's potential for connecting via Bluetooth to one of their handsets, and editing content – emails, calendar, etc – on the device, but until the 3G/4G versions arrive we don't know how dependent the WiFi/Bluetooth-only model will be on RIM's ecosystem.